Fukrey Returns launched a comics series in association with the legendary Chacha Chaudhary, which has been tickling everyone's funny bones just like the film.
Diamond Comics has launched a comic series which is a collaboration of the iconic Chacha Chaudhary and Fukrey Returns comic providing a hilarious overdose of entertainment. When Richa Chadha took to Instagram to share her thoughts on the comics, none other than Ranveer Singh appreciated the comics.
Ranveer Singh termed 'Fukrey Returns' as a cult film and appreciated not only the film but also the comics.
Richa Chadha had posted on Instagram, "Fukrey & Chacha Chaudhary come together! Bachpan yaad aa gaya! #FukreyReturns #Incinemasnow#comicbook".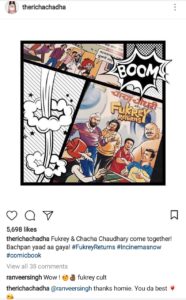 To which Ranveer Singh commented, "Wow ! 😍👌 fukrey cult" as he appreciated the film.
It is not for the first time that Ranveer Singh has extended his support to the film. the actor earlier had promoted the comic flick by featuring in a video that talked about the film's song 'Bura Na Mano Bholi Hai'.
Excel Entertainment's 'Fukrey Returns' is garnering immense love from the audience worldwide and has emerged unstoppable at the box office.
The comic entertainer continues its dream run at the box office as the weekend collection stands at 32.2 crores. The film raked in 8.10 crores on its opening day, Saturday saw a huge growth collecting 11.30 crores and the Sunday collection stands at 12.8, making the weekend collection 32.2 crores.
The film is expected to continue its dream run owing to the outstanding word of mouth.
Fukrey Returns is co-produced by Farhan Akhtar and Ritesh Sidhwani under the banner of Excel Entertainment and directed by Mrighdeep Singh Lamba, the film has released worldwide and has been taking the audience on a fun ride.