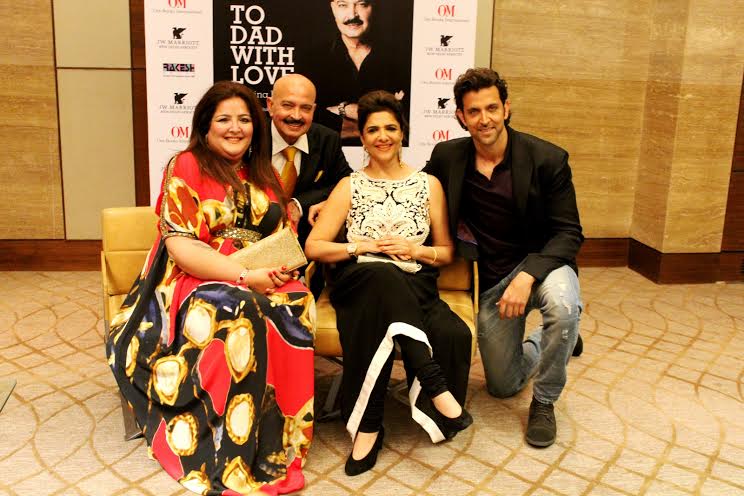 Mumbai: Om Books International launches Rakesh Roshan's Pictorial Biography by Sunaina Roshan with a Foreword by Hrithik Roshan at JW Marriott New Delhi Aerocity.
Om Books International today officially unveiled the book 'To Dad With Love', a pictorial biography by Sunaina Roshan at an event held at JW Marriott Hotel New Delhi Aerocity. Along with Sunaina Roshan, the entire Roshan family including Rakesh Roshan, Pinkie Roshan and Hrithik Roshan was present on the occasion. The Foreword of the book is written by Hrithik Roshan.
To Dad With Love is a daughter's gift to the father she places on a pedestal. It is the Rakesh Roshan story told by the fortunate who have closely watched his life unfold. It is the story of a flesh-and-blood superhero who overcame adversity in every avatar to inspire millions every day; a man whose true life saga is as full of twists and as compelling a read as his own fluid narratives; a man we cheer as Rakesh Roshan.
Speaking on the occasion Sunaina Roshan said 'In To Dad With Love, I have narrated my father's moving story in the voices of those closest to him. He is a master filmmaker of blockbusters like Krrish 3, but was once an actor struggling to carve a niche for himself in an era of superstars. His journey, like his films, has been strewn with Herculean obstacles that he has overcome each time. And he has used his experiences and education in the film industry to launch a Gen-Next superstar in his own son, Hrithik Roshan.'
Hrithik Roshan added: 'His early years, much like the stories he tells, were wrought with setbacks and struggle, conflicts and challenges. But cast in a special quality of steel, my father didn't stumble, stoop, stop, or feel defeated by setbacks. He used those very brickbats, all of life's experiences and the lessons imparted by the make-believe industry, to become a master storyteller, and indeed, one of the finest filmmakers of Indian cinema.'
Says Ajay Mago, Publisher, Om Books International, 'It is an honour to publish the pictorial biography of Rakesh Roshan since it is rare to come across people who would have waited patiently for nearly 25-30 years without keeling over, for success to crown their efforts. His life bears out the fact that self-belief and persistence decimate all adversity, however big or small.'
Balan Paravantavida, General Manager, JW Marriott New Delhi Aerocity said, "We are honored to host this special evening for the Roshan family and wish them all the success for this beautiful and inspiring book 'To Dad with Love'. JW Marriott New Delhi Aerocity is known for supporting and encouraging every form of art – literary, performing and visual with style and flair. We look forward to providing the family with unparallel guest service and hospitality."
About the author | Sunaina RoshanAs a child, Sunaina Roshan loved the outdoors and had a penchant for mischief. For her, 'If Mother was the teacher, Father was the principal.' After schooling at St. Teresa's Convent, Mumbai, she spent a year in Institut Villa Pierrefeu in Switzerland. In June 2001, she was diagnosed with tuberculosis meningitis, a condition she conquered silently. In October 2007, after she started working with Filmkraft, her father's production house, she was diagnosed with cervical cancer. Once again she rose to the challenge and emerged victorious. Younger brother Hrithik Roshan avers that Sunaina is the real 'Superhero' in the family. In Savvy's I Believe: Collector's Edition, her cover feature was among the Top 11 inspirational stories published between 1984 and 2013.