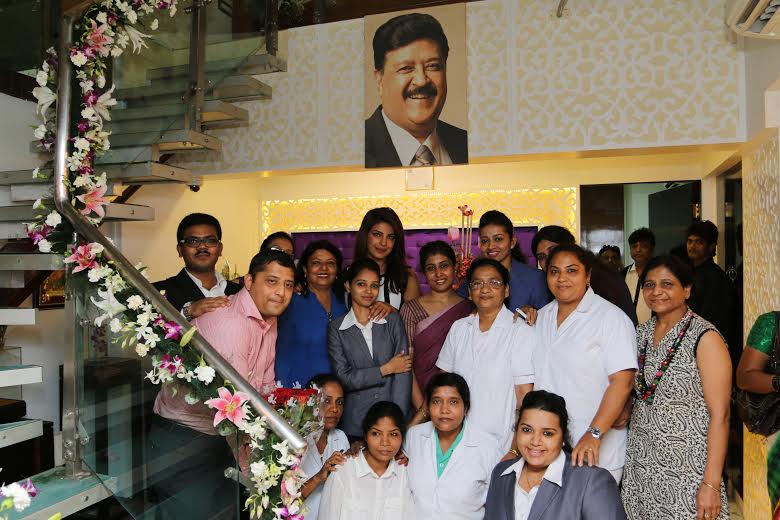 Mumbai: Priyanka Chopra recently relaunched Studio Aesthetique in Juhu. The brainchild of Priyanka's parents, the Late Dr. Ashok Chopra and Dr. Madhu Chopra, it is Mumbai's premier aesthetic enhancement clinic. Studio Aesthetique features the latest technology, world class facilities and top-of-the-line services and personalized packages in the beauty enhancement industry.
A host of well-known faces, including Tanvi Azmi, Shrishti Behl, Gauri Pradhan, Anusha Dhandekar, Shibani Dhandekar, Pushpa Kaushal and many renowned doctors and surgeons from the field were all present to celebrate the opening of the newly refurbished premises and in support of Dr. Madhu Chopra. The state-of-the art clinic is run by the country's leading surgeons and practitioners and is a recognised leader in beauty enhancement industry in India.
Announcing the re-launch, Dr. Madhu Chopra, Managing Director, Studio Aesthetique, "This is a wonderful step forward. After 5 years of delivering on our customer expectations, we decided to give ourselves a makeover. Apart from a new look, Studio Aesthetique also provides a host of new procedures and state-of-the-art technology that is best-in-class from across the world.
We continue to offer the same level of commitment and confidentiality for very client. It's what we always say at Studio Aesthetique.. Want it? Get it!! Flaunt it!!!!!!"
"It's a very proud moment for me. A lot of hard work, time, resources, in-depth research and months of training have gone into ensuring that Studio Aesthetique provides world-class treatments and services to its clients. My parents and the Team have worked very hard to make this a reality and I'm confident that it will continue to be a success. I wish them all the luck." said Priyanka.
Studio Aesthetique is the definitive destination for every cosmetic enhancement need. Backed by a panel of pre-eminent, super-specialists from across the fields of cosmetic dermatology, surgery, nutrition and dentistry, Studio Aesthetique offers the latest techniques from across the world and top-of-the-line, state-of-the-art technology reiterating the brand promise of "Fine today. Fabulous tomorrow!"