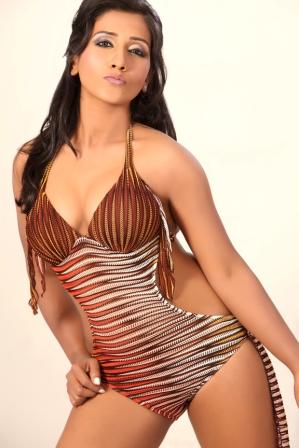 Mumbai: Reliable sources informed us that controversial strip queen and Bigg Boss Season 8 probable participant Nisha Yadav will pose nude for an international dance music video composed and remixed by DJ Frank Franklyn. The video will be shot at a studio in Mumbai and an outdoor location in Goa in the next two weeks. While Nisha Yadav was not available for comment, DJ Frank Franklyn post on his official page on Facebook confirms that the strip queen will be shooting an exclusive video very soon.
According to reports, the very controversial actress and drama queen Nisha Yadav apparently has been approached to be a participant in the 8th Season of the infamous Reality Show Bigg Boss. If sources are to be believed some casting agents are in touch with Nisha Yadav for the reality show.
A source close to Nisha Yadav said, "She is as hot as Sunny Leone and is known for her devil-may-dare stripping acts. It is not surprising that Bigg Boss would love to have her in the house as an inmate." Nisha Yadav has posed nude on several occasions. She has also done the full Monty, posing in nothing but her birthday suit for several international men's magazines.
The grapevine claims that soft-porn magazine Hustler had also approached Nisha Yadav for a photo shoot but it is not known if she actually worked with Hustler.