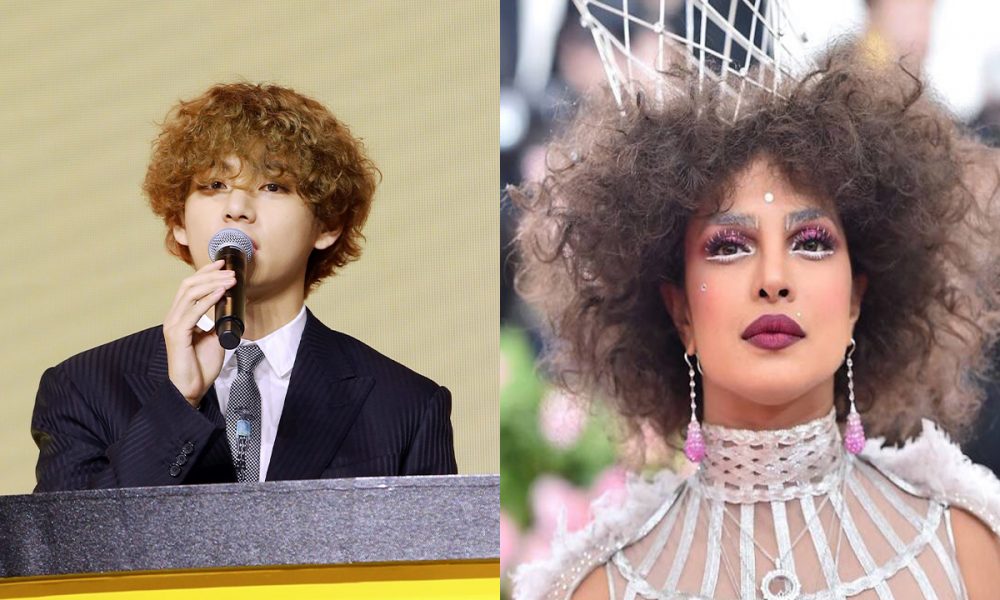 Source: Twitter
BTS has taken the entire world by a storm yet again with the release of their new song Butter. The kind of love that song has received is incredible and has surely broken many records by now. At the press conference, BTS' new song happened, fans of the band who call themselves the ARMY found a hilarious similarity between one of the members V, and the global icon Priyanka Chopra.
During the conference, V debuted a brand new hairstyle and it was bright brown and had perms. Fans revealed that his hair looked very similar to the way actress Priyanka Chopra carried herself during the Met Gala that happened in 2019.
See the posts made by BTS Army with V and Priyanka Chopra here:
BTS fans compare V with Priyanka Chopra after Jungkook styles his perm with forks https://t.co/p0l1PvepkL pic.twitter.com/XT5xNblGCL

— TO BE newstar (@TOBE_newstar) May 21, 2021
Who did it better??? @priyankachopra or @BTS_twt taehyung🤣🤣
Stylist:Jungkook#BBMAsTopSocial pic.twitter.com/qsJAsXZgFO

— Pur_plehearts7🇳🇵 (@Eu_4_riya) May 21, 2021
Priyanka Chopra spotted at BTS VLIVE 💀 pic.twitter.com/OkQZq999iD

— JisooExpensiveDiorBag (@FangirlAahanee) May 21, 2021
Now we got our own miss world in bagtanworld. Beauty is everywhere🥞💜@BTS_twt and @priyankachopra are love..#butter #fashion #utterday #priyanka #army #btsvlive pic.twitter.com/pd9O6OZlkP

— Gamerjeonguk (@gamerjeonguk) May 21, 2021
BTS will be performing their new song Butter live at the Billboard Music Awards 2021. Whereas, Priyanka Chopra was last seen in the Oscar-nominated film 'The White Tiger'. She will soon feature in new projects like 'Text For You' (film), Citadel (web series), Matrix 4 (film), and so on.