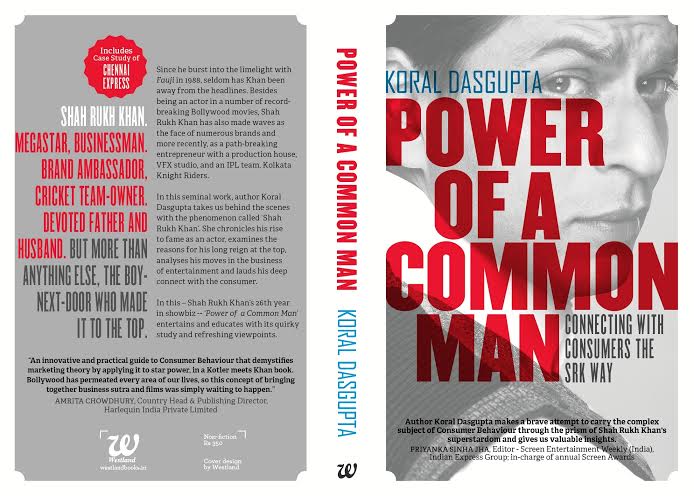 Mumbai: One has read many book in his/her life but this time Koral Dasgupta has came with a classic book on SRK named "POWER OF A COMMON MAN."
18 chapters in the book, POWER OF A COMMON MAN : Connecting with Consumers the SRK Way attempt to analyze Shah Rukh Khan's Fans/Followers/Consumers.
The actor has played different roles in the last 25 years : an actor, producer, host, endorser, cricket enthusiast, brand ambassador, entrepreneur, educationist, friend, business partner, orator…the list continues! And for each role that he offered, there was a Consumer.These consumers have trusted him, believed in him, loved him, criticized him, ditched him, and went back to him from time to time : but never ignored him! This book is the story of SRK and his Fans/Audience/Consumers all through his starry journey in the entertainment industry.
Jayesh Parekh, Co-founder of Sony Entertainment Television puts it as "Koral Dasgupta's ambitious attempt to understand Shah Rukh Khan's consumers have required collating endless media reports, observing thoroughly the star's fanfare and bringing them all together to create a convincing story, where HERO is that Consumer who has ever loved and cheered for Khan!"
"Koral Dasgupta's innovative analysis brings to life abstract concepts in marketing and consumer behavior, through the lens of SRK's inspiring journey. Plenty of refreshing insights, fun and effective learning, whether you are a marketing student, a manager or just another SRK fan – read it!" — Vinay Hebbar, Managing Director Asia-Pacific, Harvard Business Publishing.
About the author: Koral Dasgupta is an academic, management consultant and content editor. Her research paper shave been published in leading journals and presented at renowned B-Schools across India. Being a keen observer of Bollywood, she loves to dig out academic learning from the bling of films. She is also a freelance painter; her paintings draw inspiration from Indian mythology and the Madhubani art form, and are corporate gifts for many organisations. Wife of bestselling author Tuhin A. Sinha, books are a non-negotiable hobby-turned-work for Koral.
One interested to get a copy should directly reach the nearest store.