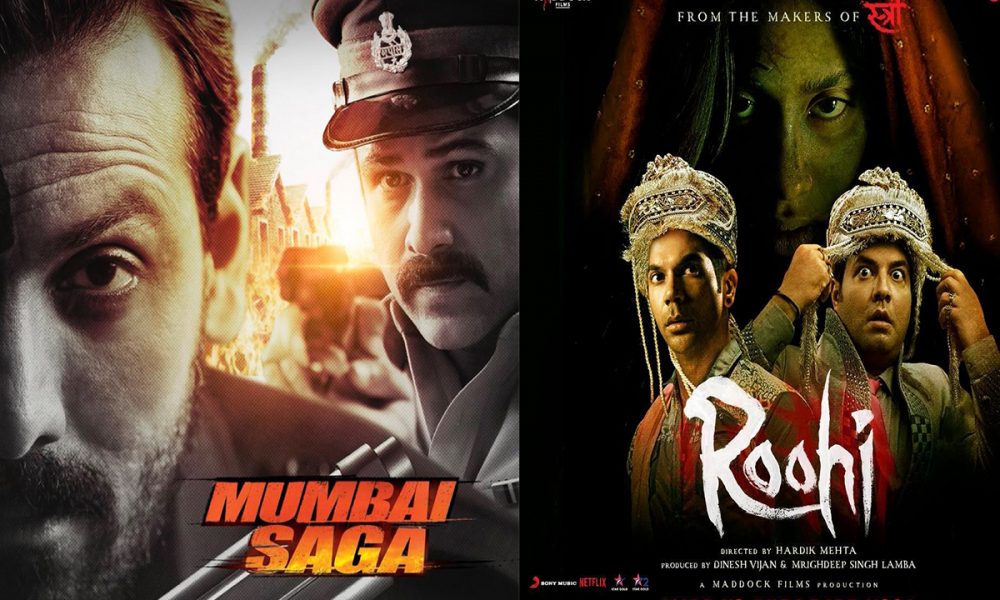 Source: Twitter
The year 2021 started off incredibly for the film industry when 100 percent capacity was announced in movie halls. However, the COVID-19 crisis has led to a lockdown in many of the regions once again in India. Due to this, a lot of the big-screen releases have resolved to have the premiere of their movie on digital space As well.
Bollywood Dhamaka brings you the list of latest theatrical releases that you can now watch on OTT.
1. Roohi
This was the first big-screen release that was announced in the month of March. This horror-comedy starred Janhvi Kapoor, Rajkummar Rao, and Varun Sharma in the lead role. It was Considered A hit and is now available on the streaming platform, Netflix.
2. Mumbai Saga
Directed by Sanjay Gupta, Mumbai Saga is an action crime film with a stellar cast of John Abraham, Emraan Hashmi, Sunil Shetty, Kajal Aggarwal, Rohit Roy, Anjana Sukhani, Mahesh Manjrekar, Prateik Babbar, Sameer Soni, Amole Gupte, and Gulshan Grover. It is set in the 80s and recites the tale of the time Mumbai was still known as Bombay. It is premiering on Amazon Prime Video.
3. Saina
It is the long-anticipated Saina Nehwal biopic that finally released this year in theatres during the month of March. Parineeti Chopra essayed the role of sensational badminton player Saina Nehwal and her journey of making it big in the field of sports. The film can be watched on Amazon Prime Video.
4. Tuesdays and Fridays
This romantic comedy featured new Actors like Jatalika Malhotra and Anmol Dhillon in lead roles. The premise was based on two youngsters get into a relationship where the rule is that they only get to meet each other on Tuesdays and Fridays. The film had its digital release on Netflix.
5. Tenet
This anticipated Christopher Nolan film released theatrically last year. The film is based on international espionage and a man called 'Protagonist' who is on a Mission trying to unfold something which is beyond real-time. The film also got an Oscar in the category of 'Visual Effects' this year. Starring John David Washington, Elizabeth Debicki, Robert Pattinson, and Dimple Kapadia in important roles, the film is streaming now on Amazon Prime Video.