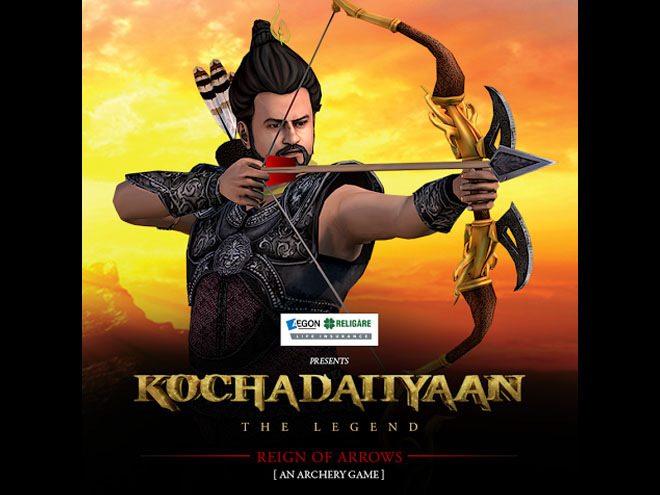 Mumbai, April 8: The pioneers in online insurance, AEGON Religare Life Insurance (ARLI) bring you an online game, 'Kochadaiiyaan's Reign of Arrows', based on the animated Tamil movie, starring the Superstar Rajnikanth. This game is a third-person, action arcade archery game, which is replicated from the movie's theme.
The game has been developed by Hungama Digital Media Entertainment Pvt. Ltd. and can be downloaded from any device on the Android, iOS or Windows platform or through Facebook, without any charge. It went live on March 19, 2014 and is listed as one of the top five new apps on the Google Play Store.
Mr. Yateesh Srivastava, Chief Operating Officer, ARLI says, "We are happy to sponsor Kochadaiiyaan's Reign of Arrows and be associated with this game as it subtly allows us to connect with the younger generation and promote the AEGON Religare brand. The game is extremely appealing and has already received more than one lakh downloads till date. Besides the branding opportunity, the game is structured in a way as to generate leads for AEGON Religare. This is our first experiment with full blown gamification and we are looking forward to the outcome with a lot of interest and anticipation."
The AEGON Religare iTerm Insurance Plan, a pure-protection plan, has been integrated with the game to specifically showcase AEGON Religare's product proposition aimed at building immunity and inner strength for the player, quite similar to providing security to one's family by opting for a term plan.
In the game, the player is required to single-handedly fight the invading army. It is an action-packed archery game that provides an immersive gaming experience with the brand cues, lead generation tools and an option to download AEGON Religare's iTerm app, built into the game play.
The game also has an AEGON Religare Chest Plate, AEGON Religare Health Potion and AEGON Religare Revival Kit which have been integrated to provide the player with an enhanced virtual gaming experience.
To download the game, you need to visit the Google Play Store on your Android device or the App Store on iOS device and search for 'Kochadaiiyaan – Reign of Arrows'. You can also visit the following link to download the game – http://www.vroovy.com/kochadaiiyaan.html