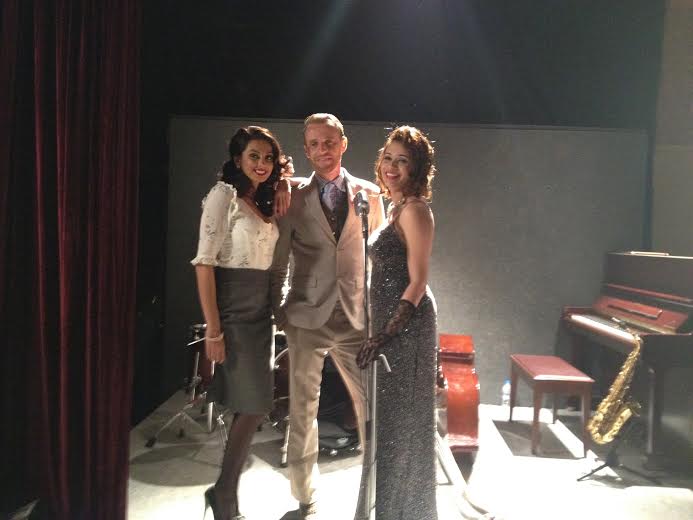 Mumbai based this Kiwi Musician, Mikey McCleary, re-invents the most beautiful songs from 50s and 70s Bollywood era to create some phenomenal tracks like Khoya Khoya Chand from Shaitan, Tum Jo Mil Gaye Ho from the Coke "invisible bottle" TV ad, recently at Sitara studio in Mumbai completed shooting his music video for the track 'Aaj ki raat koi aane ko hai' for his upcoming 3rd album.
Kiwi musician Mikey McCleary's band, The Bartender, revamps Classic Bollywood music with their own personal twist of seductive jazzy style. The Bartender's first album was 'Classic Bollywood, Shaken not Stirred' and second album was 'B Seventy' was created in honour of Amitabh Bachchan and was released as a dedication to him on his 70th birthday. They have completed shooting their music video for the track 'Aaj ki raat koi aane ko hai' for their upcoming 3rd album.
As we all know the beautiful and seductress Helen featured in the original track 'Aaj ki Raat' from the film 'Anamika'. While the setup of this video shoot was that of 40s jazz bar look. This jazzy number, while staying true to the original soul of the song, combines reggae with cabaret and motown, Mikey has re-invented the music for 'Aaj ki raat' and Shalmali is the lead singer in it, and they both will be acting in the video along with Shibani Dandekar, singer, anchor and model.
The video will be a murder mystery with Shalmali playing a seductive bar singer and her outfit was giving required amount of glamour quotient to the video, while Shibani is playing a beautiful waitress who has the moves to die for and Mikey will feature as a detective in the video.
Mikey has a special liking for 50s and 70s era Bollywood music. Why this special choice? He replied, 'I think the melody of those songs are so beautiful and there is lots of romance in those songs. The original recordings are quite old, I want to add something to them…the songs are like…like beautiful women wearing the old clothes, I am just giving them new looks to them.'
Born in Chennai, he is originally from New Zealand. He studied Composition and Orchestration at the Wellington Conservatorium of Music and at Victoria University, Wellington. He then worked as a music producer in London at Trident Studios London among other places.
Mikey has previously worked with industry stalwarts like Lucky Ali starting with his debut album Sunoh, and AR. Rahman for their home as well as crossover projects. He has also been actively involved in producing music for a number of TV programs, commercials for brands like Vodafone, Coca Cola, Levi's, Canon, Sony, Titan, Garnier, Lakme, amongst others, Bollywood films tracks and background score for films like Shaitan, Shanghai, David, Nautanki Saala, Shaadi Ke Side Effects etc. and movies down south.
Mikey has this eclectic music sensibilities which gives his music a unique edge. Mikey proves again with 'Aaj ki raat', that Classic Bollywood is truly timeless!