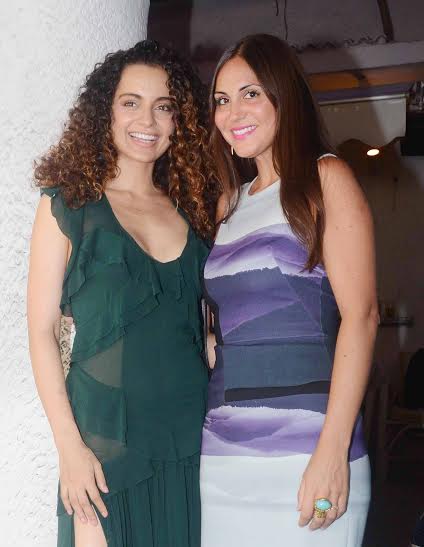 Mumbai: National award winning actress and Bollywood's fashion poster-girl, Kangana Ranaut hosts a brunch to introduce ASMALLWORLD, the leading international private travel and lifestyle club, to India.
Famous for it's exclusivity, ASMALLWORLD (www.asw.com) was founded in 2004 by a Swedish count and has had high profile owners like Hollywood producer Harvey Weinstein and Nestle heir Patrick Liotard-Vogt. The brand boasts prominence in Europe and the United States. In May 2013, ASMALLWORLD relaunched with a string of glamorous parties and people (from Adrien Brody to Daft Punk) around the world, one of which Kangana Renaut attended.
"ASMALLWORLD brings glamour from London to Paris to Dubai," said Ranaut. "Last year, then CEO Sabine Heller invited me to AMALLWORLD's Winter Weekend at the Gstaad Palace Hotel in Switzerland, and I got to meet and party with an international mix of Hollywood, fashion, and royalty. I hope to see the next generation of Indians, who are internationally minded apply to join the club and share the good life."
"ASW offers access to everything from a villa rental in Sardinia to a cocktail gathering in Shanghai—and all the people, parties, and places in between. Ultimately, our members can live like locals and feel at home wherever they go" said Sabine Heller, now Vice-Chairman of ASW.
"Kangana embodies the spirit of sophistication and worldliness upon which ASW is founded, and we are proud to welcome her into our club" Heller continues. "When I met Kangana last year, I was moved by her kindness and generosity."
ABOUT ASMALLWORLD: ASMALLWORLD is the leading private international lifestyle club, founded in 2004 as one of the first online social networks with an emphasis on events, privileges, and travel tips from the very best source: the well-traveled. ASW's membership is comprised of internationally minded people committed to opening their lives and passports to each other, ensuring that above all else, members can live like locals and feel at home wherever they go. In addition to community, ASW offers members benefits at 500+ leading travel, fashion, and lifestyle brands around the world including Etihad Airways, The Four Seasons, Maserati Stores, The Taj Hotel Group, Bungalow 8, Pernia's Pop-up Shop, and Good Earth.
ABOUT SABINE HELLER:
Sabine Heller joined the Board of Directors of ASMALLWORLD in 2014 as Vice-Chairman. Prior to that, she was ASW's President and CEO since August 2010. Previously, Sabine formed and headed a boutique strategy and marketing practice, specializing in small to mid-size companies in the luxury, fashion, and media sectors. Her clients included Harry Winston, Gucci, GILT Groupe. With a penchant for discovering new talent, Sabine also founded The Villency Emerging Fashion Program, a design incubator that collaborated with top American fashion houses, including Proenza Schouler, Thakoon, Derek Lam. Prior to that, she was the VP of Marketing at Maurice Villency/Roche Bobois USA and UGO Networks, which was sold to Hearst in 2007. Sabine is also an editor-at-large at Purple Fashion Magazine and Vogue.it, and over the years, has interviewed and collaborated with leading artists and cultural figures including Philip-Lorca diCorcia, Tracey Emin, Terry Richardson, Marianne Faithful, Mark Ronson, James Franco, and former President Clinton. Sabine Heller is half-Indian, and was raised in Mumbai during her early years.