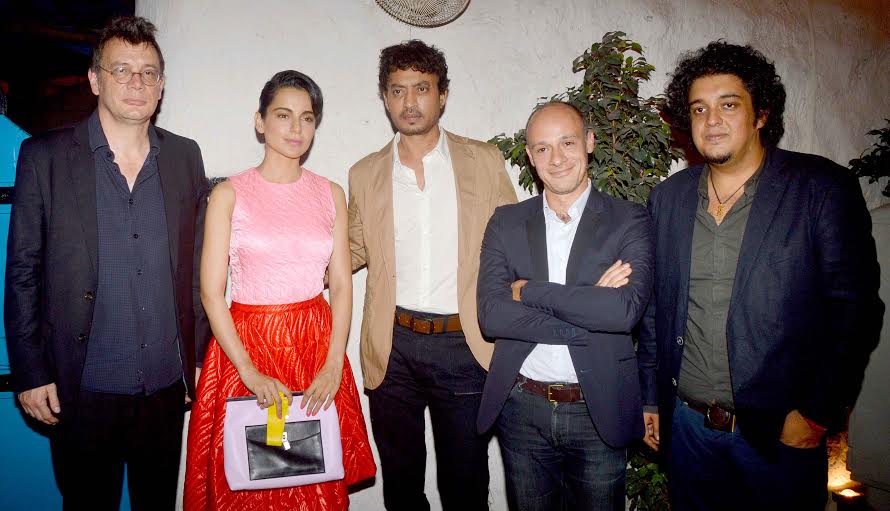 Mumbai: Director Sai Kabir's upcoming film, Divine Lovers starring National Award winners Irrfan Khan and Kangana Ranaut, is one of the few projects from all over the world which has been noticed and advised by Frank Priot,DGA Film France, the French Film Commission, which has been closely following Sai Kabir's work as a director for 3 years now.
Helping set up the partnership between Paris and Mumbai talents and companies, Film France made sure that Divine Lovers is on the track to be an official Indian-French co-production, and therefore could be eligible for French Qualification when its production starts. What this means for the film is that Divine Lovers may receive a mainstream cinema release in France and the rest of Europe, a very rare occurrence.
Every bit the great Indian Dream,Divine Lovers will be India's answer to French edgy , love stories that the whole world watches .Bringing together two versatile talents, Divine Lovers is a love story drama set in the heartland of India that deals with the lives of the lower middle class.
Talking about the film says director Sai Kabir, "Divine Lovers will be a collaboration of French & Indian producers coming together for a project.The film will also star French technicians. It's an attempt at making an authentic Indian film, with French technical and philosophical support. I really admire their passion for cinema".
Says Frank Priot, DGA Film France, "It is exciting for us at the Film France to have young talents like Kabir Sai, from the new generation of Indian directors, willing to work with France and French talents in order to have their movies reaching out to wider audiences outside of India. And his impressive knowledge of French cinema for sure will help him to find common grounds and references with us.With its reality-grounded style, Divine Lovers has a potential appeal to European audiences, even if they don't know the Bollywood conventions".
The film will be produced by Shailesh R Singh with Irrfan Khan. Shailesh Singh has previously produced many acclaimed films like Tanu Weds Manu, Dil Kabaddi and Shahid to name a few. He is excited to collaborate with his French partner, Léonard Glowinski (co-producer), a successful film producer,having headed StudioCanal and Pathé and produced films like Oliver Stone's Alexander,Alain Chabat's Astérix & Obélix: Mission Cléopâtre and Julian Schnabel's The Diving Bell and the Butterly to name a few.
Says French co-producer Léonard Glowinski, "What I notably appreciate is that Sai's Divine Lovers deals with hard and complicated subjects with a comic tone which I'm sure will prove extremely effective.The casting too is perfect for the exposure of the film".
The film that goes on floors March next year, will be shot in various locations across India.
Says Kangana Ranaut, "To work on Divine Lovers is extremely exciting for me as an artist and as an actor .It will be India's answer to edgy, love stories that world-cinema viewers enjoy and I'm glad to be a part of the film".
French co-producer Léonard Glowinski , Frank Priot ,DGA Film France flew down to Mumbai over the weekend and interacted with the media here along with director Sai Kabir, leads Irrfan Khan and Kangana Ranaut.