Diljit Dosanjh, the pride of Punjab has finally released his most anticipated album G.O.A.T. today. The album focuses on how his journey has been throughout his career and is a tribute to his fans. The singer mentioned that he has completed 18 years in the industry so far and is super grateful for all the support and love the fans have given him.
The album released on the evening of 29 July. The fans were quick to take the internet by a storm and praise the album that was for them.
#ListeningPartyWithDiljit #GOAT album on full volume! @diljitdosanjh @spotifyindia 🔥🔥🤩🤩 pic.twitter.com/kLUhX4Pp9x

— Tulika Mehrotra (@BoleTuu) July 29, 2020
#ListeningPartyWithDiljit @spotifyindia @diljitdosanjh
thank you spotify for this and i thought i'll have to wait one more day for this 💥🔥🔥

— Ashish Kumar (@aknature_) July 29, 2020
G.O.A.T. #ProudPunjabiIndustry
Once again @diljitdosanjh proved ❤️⚡️✨

Thank You for this flawless gift 🙏😭@spotifyindia @kalikwest @famousdosanjh

#ListeningPartyWithDiljit pic.twitter.com/98tgyhz0w5

— Virkaran Singh (@VirkaranSingh5) July 29, 2020
Just finished G.O.A.T… The best thing that happened in 2020. Lubb Ju paaji. G.O.A.T. and Peed are my favourite.♥️♥️@spotifyindia @diljitdosanjh #GOAT #GreatestOfAllTimes #ListeningPartyWithDiljit

— Vloggish Singh (@vloggish_singh) July 29, 2020
Literally no one can ruin my mood today!!! 💕💕

Pra hoke langh…Bae's album dropped and im on cloud 9!! #ListeningPartyWithDiljit #diljitdosanjh @diljitdosanjh

— Carpediem1 (@Carpediem1__) July 29, 2020
Along with this, the star also released the music video for the title track of the album 'G.O.A.T.'
Here is how prominent people from the industry reacted to his anticipated project!
Bollywood star Vicky Kaushal uploaded a screenshot of himself listening to G.O.A.T. with fire emojis.
Other people like Badshah, Ammy Virk also congratulated the artist.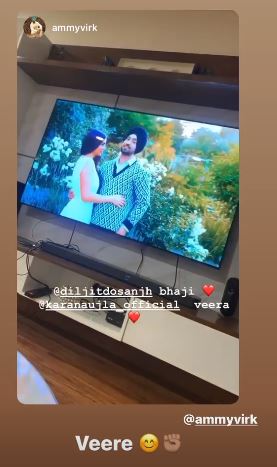 Soon after his video released, it hit the top spot in major countries like India, UK, New Zealand, Canada, UAE and USA.
The view already has 10 million views since it's release yesterday.