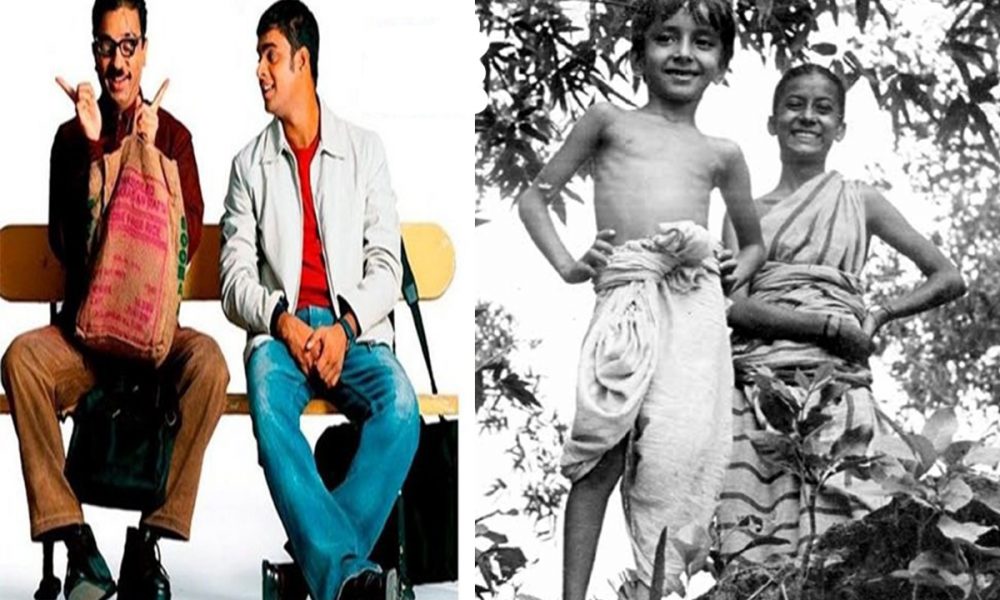 Source: Twitter
Usually, people think of Indian films to be cheesy entertainers with the right dosage of action, humour and of course a love story. However, sometimes a few films release and make people not give in to that stereotype. There have been quite a few underrated films belonging to the Indian cinema that made people appreciate the intellectual beauty of it.
Bollywood Dhamaka has curated a special list of top-rated Indian films of all time!
Check them out here:
1. Manichitrathazhu (1993)
This film was a supernatural and psycho-thriller in Malayalam. Directed by Fazil, it starred Mohanlal, Suresh Gopi and Shobana in key roles. This is the original film from which the popular Bollywood hit 'Bhool Bhulaiyaa' was inspired from. It holds a rating of 8.4 on the Internet Movie Database i.e. IMDb.
2. Kireedam (1989)
https://www.youtube.com/watch?v=OhEW6xr0FwA
This project belongs to the world of Malayalam cinema too and featured Mohanlal, Thilakan, and Parvathy Jayaram as leads. The film explored the intense topic of how society plays a toxic part in not letting people flourish as their true self owing to the 'what will people say?' mentality. IMDb has rated this film 8.4.
3. Natsamrat (2016)
Natsamrat was a Marathi language movie with the legendary Nana Patekar as the protagonist. It was directed by Mahesh Manjrekar and followed the life of a theatre actor who has recently retired and cannot seem to find peace after staying away from the theatre and stage. The film has an IMDb rating of 8.4.
4. Pariyerum Perumal (2018)
This Mari Selvaraj directorial had Kathir and Anandhi in the leas in this Tamil movie. It was a love story with the social issue of the caste system bring the major highlight of the film. IMDb gave an 8.4 rating to the film.
5. Drishyam 2 (2021)
Drishyam 2 is one of the very quickest films to have gained a spot in this list right on the year of it's release. This Malayali thriller also stars Mohanlal in the leading role. It is the story of a simpleton named Georgekutty and the lengths he is willing to go to in order to save his family from harm. Drishyam 2 has a rating of 8.4 on IMDb.
6. The World of Apu (1959)
This Bengali language movie belonged to the drama genre and was directed by the greatest filmmakers in history, Satyajit Rey. It is the third instalment in the Apu trilogy starring Soumitra Chatterjee and Sharmila Tagore in the main roles. IMDb has rated the film 8.5.
7. Anbe Sivam (2003)
Anbe Sivam was a Tamil 'dramedy' with Kamal Haasan and Madhavan essaying the lead roles. The film was about two guys i.e. Nallasivam and Anbarasu who have different personalities from one another and what happens when they take a trip from Bhubaneshwar to Chennai. The rating of this film is 8.5 on IMDb.
8. Nayakan (1987)
It is a Tamil film helmed by Mani Ratnam. Mohanlal, Viji Sankaradi and Captain Raju featured in this as leads. It highlighted the struggles of an ordinary man as he finds himself stuck on the wrong side of the law and locking horns with a corrupt police force. Nayakan holds an 8.5 rating on IMDb.
9. Gol Maal (1979)
Celebrate director Hrishikesh Mukherjee made this film with the cast of Amol Palekar, Utpal Dutt and Bindiya Goswami. It was a comedy movie about a man who is caught in a bed of lies in order to secure his job and save himself from a boss who is always high on suspicion.
10. Pather Panchali (1955)
https://www.youtube.com/watch?v=6CA3bsOv6MI
This Bengali feature film is considered the very best of master filmmaker Satyajit Ray. It was his directorial debut and the first film of the famous 'Apu Trilogy'.  It is focused on the childhood life of a boy named Apu and how his family has to live an uncomfortable life in the village. It contains an 8.5 rating on IMDb.