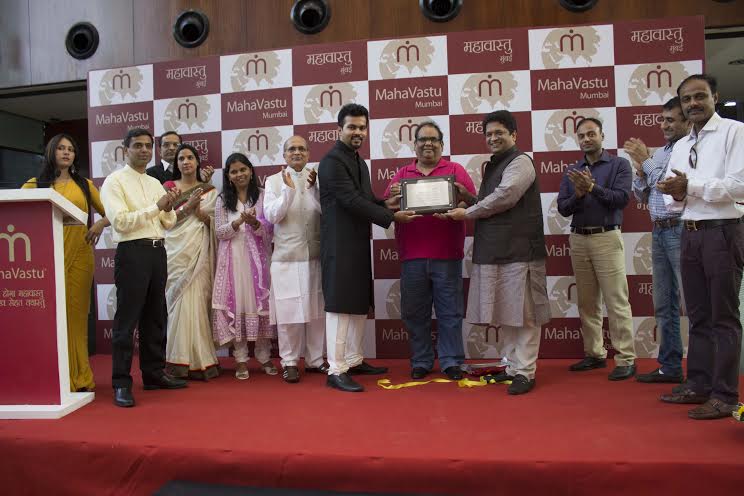 Mumbai: With the launch of its first Franchise Centre in the financial capital of India, at Star Hub, Andheri (E), Mumbai, MahaVastu has started corporatizing Vastu Shastra – an ancient Indian art of creating happy environment in buildings.
"Today the financial capital of modern India has received an essential catalyst to create another boom in Indian Economy." Said Vastu guru Khushdeep Bansal on the launch event.
The event also witnessed the presence of "Mr. India" fame and producer, director and actor, Satish Kaushik. On the launch of Mahavastu Mumbai Centre, he quoted, "Even my home and office are as per Vastu compliance. I am very happy Mahavastu has come to Mumbai city with its centre. People of Mumbai will be able to avail its services to rectify their Vastu related problems at home and offices."
MahaVastu is an established brand and the leader in the domain of Vastu. Advising customised Vastu solutions without suggesting demolitions is the distinctive quality of MahaVastu Centre.
MahaVastu Centre also provides scientific Vastu evaluation reports, Vastu perfect building designs, short courses and simple Vastu remedies. The service portfolio of MahaVastu Centre has emerged from the scientific research of the foremost Vastu consultant VastuShastri Khushdeep Bansal, after documentation of 10,000 successful Vastu case studies in over two decades now.MahaVastu™ is a 4-Step Method to know the influence of your building (home, office or factory) on you and your life. These influences can be positive or negative and are, accordingly, responsible for your success or failure.
"Now Mumbaians will get the most effective and scientifically proven Vastu solutions without worrying about breaking the beautifully made apartments. They will get an opportunity to learn the most secretly guarded Vastu art in a 2-days Course to live with more money, love and happiness." told Prasad Kulkarni, CEO, MahaVastu MumbaiCentre to media persons.
MahaVastuplans the expansion of MahaVastu Centres to 240 globally including 60 Centres abroad. Mumbai Centre is the first franchisee of them.Starting with an Investment of 30–35lakhs, the estimated turnover of each franchisee is expected to be 1.25 Cr to 1.5 Cr (Indian Rupees) with ensuring profit of INR 40-45 lakhs, increasing every year. In this way, MahaVastu has been fulfilling its Social Responsibility by creating a great Opportunity of Self-Employment."MahaVastu Mumbai Centre is the foundation stone of globalising Vastu Shastra. Since ages, Temples have proven that Vastu Shastra is the proven methodology to attract money energy in buildings." Added Vastu Guru while sharing his future vision.
The next MahaVastu Franchise Centres will be opened in Houston, USA by Mr.Chetan Patel and in Raipur (C.G.) by Mr.YashvantSahu.
The CEO of MahaVastu Mumbai centre, Mr.Prasad PramodKulkarni comes from the family of an eminent spiritual healer and traditional Vastu Shastra practitioner ShriPramodKulkarni.Since early age Prasad wanted to explore logic and scientific basis of Vastu Shastra. So, in May 2012 he joined the MahaVastu Course and learned Vastu Shastrascientifically.Amazed by the beneficial results of MahaVastuRemedies in homes, offices and factories he decided to start the first global MahaVastuCentre in Mumbai.