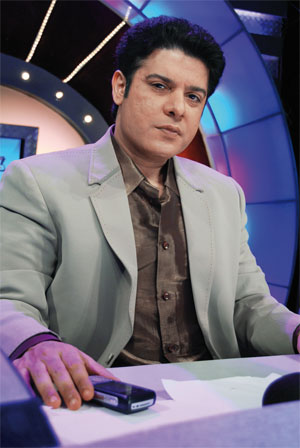 Filmmaker Sajid Khan attended Jagran Cinema Summit on Friday in Mumbai. While interacting in a panel discussion, Sajid stated that failure of his films helped him to understand curves of film business.
Sajid's last two films Himmatwala and Humshakals bombed at the box-office, talking about those failures, Sajid said, "It's been 3 years but perception about Humshakals is so bad. Largely thanks to social media, some part of media plus, hero (Saif Ali Khan) also spoke against it. That film made 64 crores at the box-office and it is not a bad number but people that time was attached with 100 crore bench mark so technically it's a flop but not a disaster it made out to be"
"I took 3 years break in between that because I took 1.5 years to write a script but it didn't happen so now I have worked on 4 scripts. Hopefully in 2018 back to back 2 films will start. Failure of my films helped me to understand curves of film business and to understand what audience really wants. Sometime, when you are working all the time, you are in the middle of that and you really don't know what is working and what's not but when you stand at a side then you understand things little better"
Talking about actor's remuneration, Sajid said, "If a huge actor is taking particular fees then his fees should be exactly collection of his films opening day of its release because if you are charging premium price but if you are not opening on that day then how does it justify the producer and distributor then eventually films sinks. Larger proportion of film budgets goes to actor's remuneration so an actor should be paid minimum price and whatever the opening day does so that will justify filmmaking in big way"
In Bollywood, there are big actors who are turning 50 above 50 years of age and still industry is relied upon these 4-5 stars who are literally running the industry on their shoulders, talking about that Sajid said, "Stars turning 50 and singing song, this has been case since cinema has started. I feel audience love them and make them. They are still too deep rooted to heartland of India. If you make good Hindi commercial film, it is bound to work irrespective of budget and star cast."
"Last year around 218 films released but out which only 18 recovered their budgets this is because we are running away from making Hindi cinema. There are no playback songs these days that songs have gone to background. I feel music has played major role in these stars career. Actors like Aamir, Shah Rukh, Salman, Akshay and Ajay, it will take another good 10-15 years to move them from their position because young guys are not following the suit. They want to do meaningful cinema. There is nothing wrong in making meaningful cinema but it should be entertaining cinema. There is no such thing as big film or small films. There are only two kind of films that is good film and bad film"
When asked that Bollywood spends too much money on promotion activities as compared to Southern cinema, Sajid said, "I don't think that's true. I think today you need to create awareness about your film because there are so many things out there. You are fighting with Cricket, Football, Kabaddi, Hollywood, Concerts, Stand-up comedy so you need to spread as much awareness as you can. If the trailer of your film is liked then people will go to watch the film and if wont then they won't so at the end of the day awareness is zero"
Sajid last directed film Humshakals released in 2014.