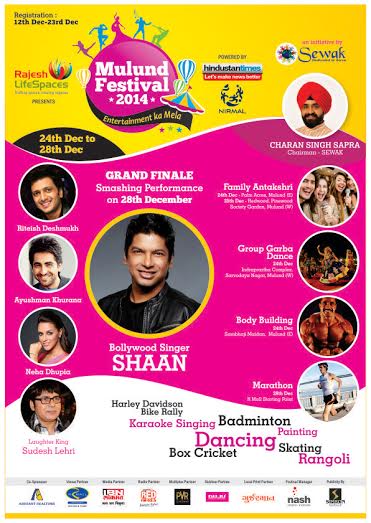 Mumbai: The Biggest Festival of Eastern Suburbs of Mumbai is back with a bang the "Mulund Festival" which is organized by NGO Sewak Charan Singh Sapra.
The week of music, dance and entertainment is going to start for Mulund people. Culturally alive, musically aware and discerning citizens will flock to the unforgettable journey of fun, love and togetherness. "Entertainment Ka Mela" of the Mulund Festival is all set to entertain and bring the excitement at the new level. Rajesh Life spaces presents Mulund Festival 2014 powered by Hindustan Times & Nirmal. The annual Mulund Festival is being organized from past 4 years. The event has grown year by year & is now listed among the top most festivals organized in Mumbai.
The 5th edition of Mulund Festival is all set to create a buzz with 'Entertainment Ka Mela'. Motive behind this festival is to provide a genuine platform to showcase local talent & unite people across these 5 days of celebration. Mulund Festival 2014 will be organized from 24th December – 28th December. Competitive activities like Group Garba Dance, Family Antakshari, Karaoke Singing, Dancing, Painting, Rangoli, Skating, Bodybuilding, Marathon, Badminton, Box Cricket will be organized across 4 days along with a Grand Finale which will receive participation of more than 15,000 from across Mumbai, neighboring district Thane &Navi Mumbai. All 12 Events make sure that each & every member of society can be a part of this festive extravaganza.
The Event culminates with a Mega Grand Finale being organized at Nirmal Lifestyle Mall on 28th December from 7 pm onwards which will feature Live performance by Bollywood Singer Shaan along with a comedy ride by SudeshLehri& appearances by RiteishDeshmukh, Neha Dhupia, Ayushman Khurana & Manav – Yam Hai Hum, Atul – R K Laxman Ki Duniya / Badi Doorse Aaye Hai, Koyel&Ghotak – ChidiyaGhar, Rupali&Sumeet – Badi Doorse Aaye Hai, Baalveer & Rani Pari–Baalveer. To give special appearances amongst 20,000 viewers. Grand Finale will also feature thrilling performances by Dance Competition winners & felicitation ceremony of Mulund Book of Record holders.