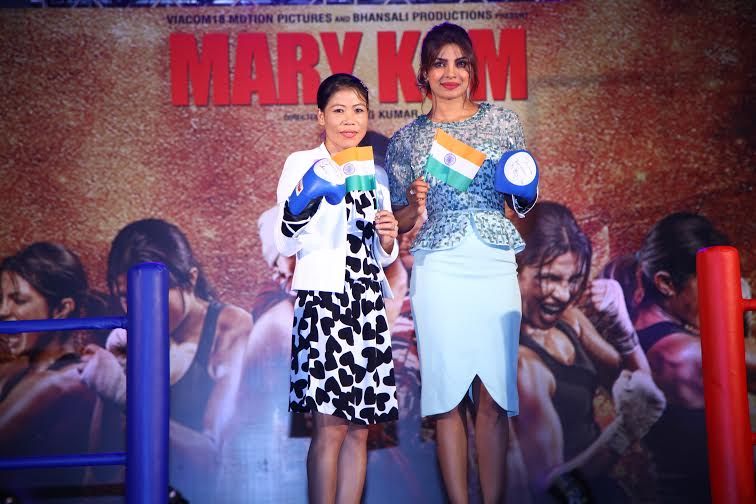 Mumbai: Jo Chahta Hai Wahi Kiya, Apni Hi Sharton Pe Yeh Hai Jiya … Dil Yeh Ziddi Hai says the team of Mary Kom as they celebrate this unbreakable spirit of Magnificent Mary. 'Ziddi Dil' was crafted as an ode to Mary and her 'Never-Say-Die' spirit, the same spirit that made her believe she could and so she did. Known to be a go – getter herself, Priyanka hosted the event along with the maverick host turned director Omung Kumar.
From the red corner of the ring – MC Mary Kom for the first time made an appearance for this event. As a token of their awe for MC Mary Kom, the music of the film was launched in her presence which mirrors her dedication, commitment and passion for boxing. All the music in the film echoes the mood of the ongoing track in the story with minute detailing and conceptualization for each song. From music stalwarts like Sunidhi Chauhan, Vishal Dhadhlani, Arijit Singh to Priyanka herself have lent their voice to the songs. The film's music has been orchestrated by debutant music director Shashi – Shivamm.
Further elaborating, Ajit Andhare – COO, Viacom18 Motion Pictures said, "VMP identifies with Mary's Ziddi Dil Spirit. We strive to live by it every day in our quest to produce content led cinema. Mary Kom- the film is the perfect testimony to this very sprit that we are celebrating today."
Added producer Sanjay Leela Bhansali said, "Mary Kom's story is an inspiring one that touched my heart. Not many films are based on biopics of living people, so this is a rare experiment. I am extremely proud of it".
Director Omung Kumar said,"It was great to host the show with Priyanka, actually we had a lot of fun and we had the honor to present the real Mary Kom to the world on whom the movie is made, to celebrate her life we launched our films music. Our films music is a mixture of fun in ziddi, love in Sukoon and saudebaazi, sadness in adhurein, Lori in chaoro, and inspiration in salaam India and ab Teri Baari hai. Great range for our film".
On this occasion Siddharth Shriram, Special Advisor, Usha International Ltd, says, "Usha is happy to be associated with this event as the theme 'Against all Odds' merges well with our company's belief of financially empowering women from marginalized sections of the society. Our silai school initiative for the last four years has been creating income generating opportunities for women residing in remote corners of the country to make them self-reliant within their family unit and thus improve the quality of their life including health, education and entertainment".
Produced by Viacom18 Motion Pictures & Sanjay Leela Bhansali, Mary Kom will hit theaters on 5th September 2014.