Kamal Rashid Khan aka KRK is in deep trouble. The irritable man may have got himself on the wrong side of the law by tweeting a clipping of Ajay Devgn's Shivaay from a theatre in Dubai.
His intention was to hurt the film and Ajay Devgn but the man himself came in the line of fire when Reliance Entertainment, the producers of the film, have reportedly filed a case against KRK for alleged piracy of the film.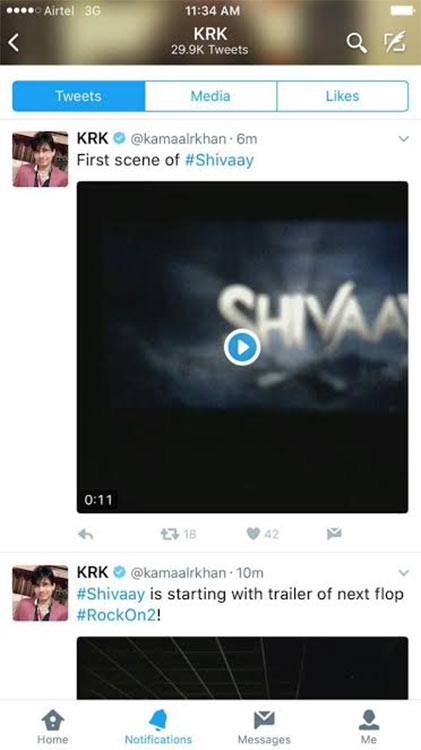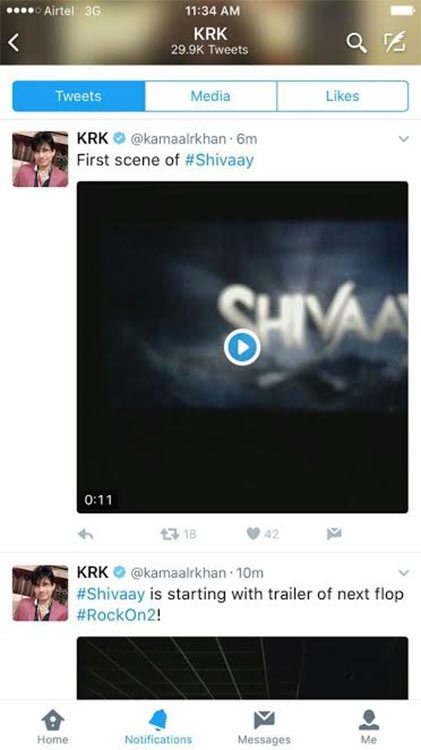 Of course, what KRK did might actually be called piracy. The favourite of controversies and foot-in-the-mouth sagas, KRK deleted the tweet but he should not expect a furious Ajay Devgn to let him off so easily.
Reliance has filed a case with the cyber crime branch in Mumbai and have written to all social media channels to block the clip.
And KRK knows that he is in trouble so he posted a clarification on Twitter:
For your information, I haven't recorded anything at all. I took a pic of Title #Shivaay only. @voxcinemas

— KRK (@kamaalrkhan) October 27, 2016
A couple of months ago, an ugly fracas happened between Ajay and KRK. Devgn had accused KRK of trying to sabotage Shivaay by taking Rs.25 lakh from Karan Johar to comment negatively against the film. He had also posted a conversation of KRK admitting to the same, which went viral.
It should be noted here that Shivaay clashes with Johar's Ae Dil Hai Mushkil at the box office.
Though Karan Johar avoided responding to the allegations, the bitterness between him and Ajay Devgn has set in.