US based Media-Tech startup Score Trends, collects millions of data points to analyze the Media industry and according to the latest data, Bollywood actress Deepika Padukone and actor Ranveer Singh at at the top of the charts this week.
The data collected by Score Trends between January 19 and January 25 shows that Ranveer Singh has reached the Number One spot with an index score of 81.25, surpassing Bollywood's most reliable actor Akshay Kumar by a minuscule margin of 0.22 points.
The Queen of B-town, Deepika Padukone has maintained her leading position this week with the score of 95.80.
International icon, Priyanka Chopra lags behind Deepika by a huge margin score of 35.98. (The screen grabs attached of the index charts of top 10 actor & actress of Bollywood.)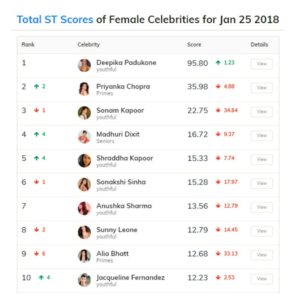 Score Trends also classifies celebrities into various sub-categories. Deepika and Ranveer lead the 'Youthful' category for females and males respectively, while Priyanka leads the 'Prime' and Akshay in the 'Mature' category.
Sonam Kapoor ranks second with a score of 22.75 in the 'Youthful' category, while Alia Bhatt secures the ninth rank with a score of 12.68.
Shahid Kapoor is in the overall fifth rank for males, with the score of 48.72 and King Khan, Shah Rukh maintains the third position with a score of 57.51. Surprisingly, both Salman and Aamir Khan share the sixth and seventh position this week, down quite a bit from the top rankings they usually frequent.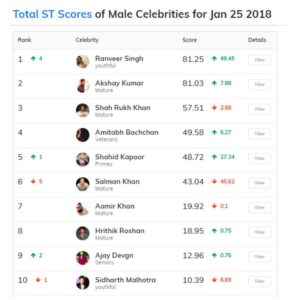 In the Media-Tech space, data and algorithms play a huge role at Score Trends with automated algorithms providing an unbiased score to each celebrity based on numerous factors. Cutting edge technologies such as Machine learning and Artificial Intelligence are used to clean the data and associate data with the right "Salman Khan" the actor vs "Salman Khan" from Khan Academy. The summarized data then passes through various quality controls which includes human verification of each of the parameters every week before the scores are published.
"Both Ranveer and Deepika have been trending across all social platforms, publications, news broadcast and digital mediums. The trends forecast that they might continue to do so due to the enormous success of their film Padmaavat," says Ashwani Kaul, Co-Founder of Score Trends.
When asked about the criteria of achieving these scores, Kaul added, " These numbers are picked from more than 600 news sources across 14 languages in India . Our sources include Facebook , Twitter , Print Publications , Viral News across social media , broadcast and digital platforms. Various sophisticated algorithms then help process this massive amount of data and arrive at the scores and rankings".