Karnal: The residents of Karnal are all set to get their taste buds titillated as CHD Developers Ltd. scours Karnal with its biggest Food Court aptly named 'Daana Paani' at their integrated township, CHD City on 15 February, 2014.
The food court spread over an area of 2.64 acres built over 50,000 sq ft on two levels with an unique Bollywood theme, will house some well-known food brands like Haldiram's, Costa Coffee, Pizza Hut, Subway, Vaango, Chawla's, Ni-hao, Baskin Robbins and Juice Lounge under one roof, the anchor brand being Haldiram's, which is first in Karnal. Haldiram's will cover about 7000 sq ft of the food court. 'Daana Paani' will offer the quintessential aura and flavours of street foods and ethnic favorites.
Since Daana Paani is on the NH-1, one can take a break here, dine & relax and then drive back. The layout and architecture is very contemporary as compared to the mundane food courts and is in sync with the global trends. It will be a one-stop food destination for consumers across the age groups and will provide a beautiful ambience to savor the delicacies. The entire design of 'Daana Paani' is handicap friendly; with circular layouts on two levels invite limitless flexibility in design and most importantly, orientation to the sun for optimum solar gain also, to take advantage of outside view. A large centrally air conditioned atrium with a seating capacity of over 300 persons allowing easy circulation of visitors and full visibility of different food kiosks. A Pitched rooftop along with skylights, to disperse bright light throughout, with large over hang allowing full solar gain and light in the winter, while providing shade during hot summer. Modern elevation with glazed façade for unhindered view to the outside, a Mother Care with feeding room facility and a rest room with world class facility, the food court also offers ample parking facilities on the ground floor.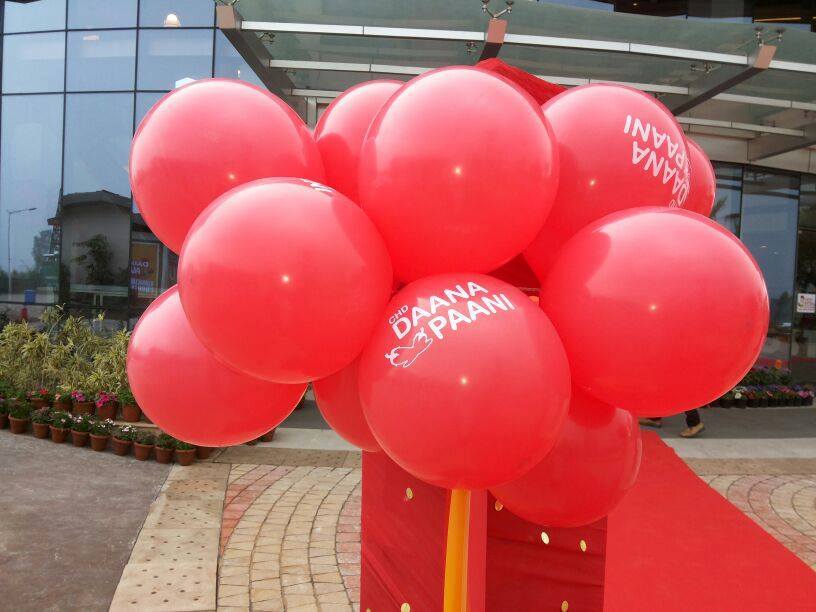 A part of CHD City, the food court will be made with an investment of Rs. 25 crores. CHD City has already transformed the face of Karnal by being the first integrated township of its kind in the area. This Food court will add to the wholesome experience provided by CHD to its residents.
Speaking on the occasion Mr. Rajinder Kumar Mittal, Chairman, CHD Developers Ltd said, "CHD Developers have always looked upon to provide their customers with the best of services and recreational facilities and amenities. We have put everything on the line to fulfill their dream for a year round food court thereby availing those savory delicacies the international brands offer. Being the biggest food court on NH1 'Daana Paani' aims to becomes much more than just a place to eat; it will eventually expand into a platform where one will meet, interact, socialise, a place where a group, family, friends or colleagues would like to hang out who would get an assortment of delicacies under one roof. It will be one gala experience for one who will remember through the journey and cherish afterward".
Commenting on the occasion, Mr. Gaurav Mittal, Managing Director, CHD Developers Ltd. said, "This food court aims to make the overall experience for our consumers interesting and worthwhile. With strategic location at place we expect a very high footfall at 'Daana Paani.' Food courts have long been a hidden source in finding some of the most unique food concepts across the country. We also plan to come up with similar food courts at our other projects. "
Talking about the various features of the food court Mr. Ravi Saund, COO, CHD Developers Ltd. added saying, "Keeping the North Indian palate in mind, we have decided to get a leading north Indian cuisine chain, a Chinese & Thai specialist, a trendy bistro/cafe, a baker, an Italian outlet, a kid's favorite fast-food joint etc. A place for a special menu brimming with traditional delicacies and stylish décor that will mesmerize the visitors with tranquil water bodies, exotic flora and fauna, kid's zone apart from other world class amenities."