Model and Punjabi film actress Poonam Rajput is all set to make her debut in bollywood with one of the most anticipated film of 2017 'Begum Jaan' in which Vidya Balan is playing the role of brothel owner. The film is set in the backdrop of late Indian Independence period of 1947. It is Hindi remake of the Bengali film Rajkahini. The film depicts journey and struggles of bunch of sex workers who fight against all odds to maintain their existence and dignity. Poonam Rajput unfolds her journey to bollywood and relationship with Vidya Balan and how this film will be one of the important film of her career.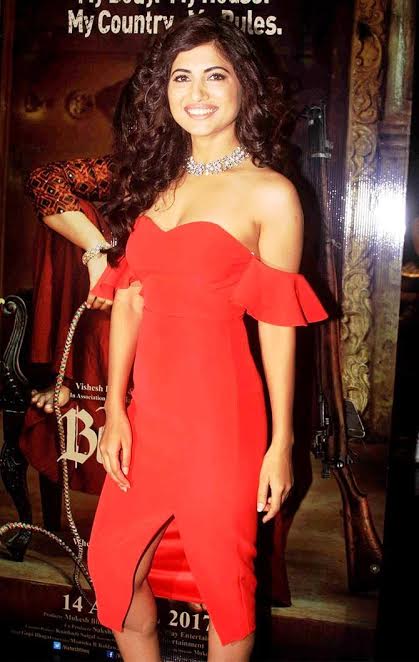 Talking about background, Poonam said, "I basically belong to Himachal Pradesh. I never desired to be an actress as people from our region is still pretty conservative. Since childhood, I was good at studies, dance and sports but never had dream to become actress but after my schooling, I moved to Chandigarh to complete my graduation and during that time, I featured in a music video and subsequently, I almost did 40-45 Punjabi music videos and that's how I started taking keen interest to pursue acting as my profession."
Talking about her journey in bollywood, she said, "When I decided to come to Mumbai, I tried to work in TV soaps and I got my first break on TV in MTV's Panasonic Face of Beauty and after that I debuted in Punjabi film called What The Jatt. One day, I received a call from casting director Mukesh Chhabra for Begum Jaan's audition and that's how I got selected for the role of Rani but I was in two minds before agreeing to do this film because this film is based on whore house and I thought that people from my village and family will get upset about that but eventually, I decided to do the film because it was backed by Mahesh Bhatt and Vidya Balan is the main lead in it."
Talking about her working relationship with Vidya balan, she said, "I am very inspired by Vidya Balan. I was the youngest and most inexperienced actor on that film's set but when I started shooting for the film, no one behaved with me in that manner. Vidya was treating me as her friend and she made comfortable to get the best out of me and I learned a lot from her about the craft of film making and acting".
Talking about her role of Rani and preparation for the role, she said, "In this film, my character is emotional and delicate. I am playing a Pahadi girl with Gadhwali accent and makes of the film wanted these specific features for the character of Rani and since I am from Himachal Pradesh, I was the first choice for this role. Film's director made me understand nuances of the character by taking fair amount of workshop with us and accordingly, I tried to build that character onscreen."
Poonam has lot of hopes from the film, she said, "I hope that, Begum Jaan will be a biggest turning point of my career as I come from completely non-filmy background, a small village of Himachal Pradesh. I already know that lot of good things will happen to me as far as my acting career is concerned."
Begum Jaan is directed by Srijit Mukherji and produced by Mahesh Bhatt and Play Entertainment. It is scheduled to release on 14th April, 2017.