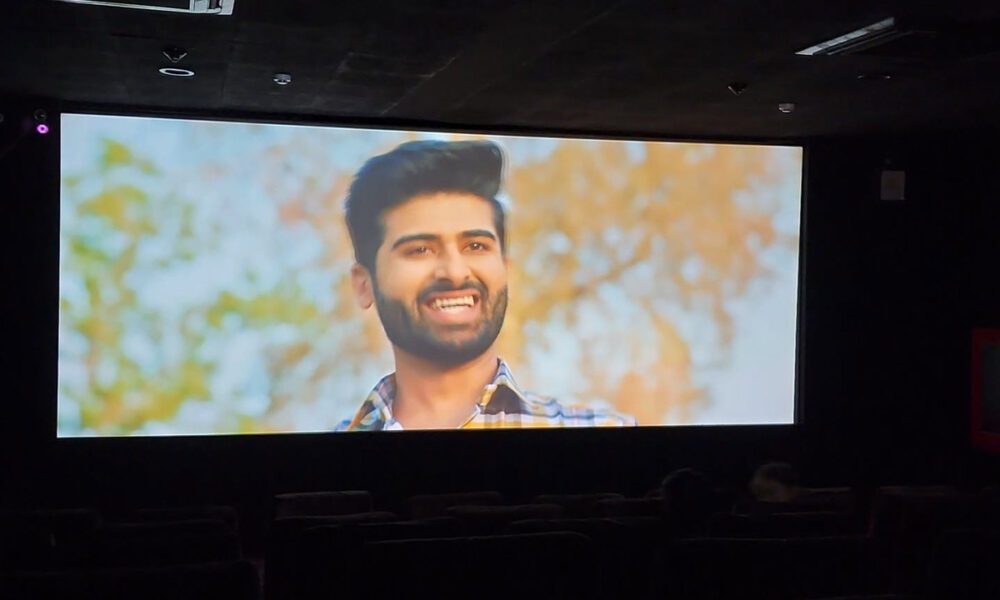 Photo: facebook/darasingkhurana
On paper, Bai Ji Kuttange had all the ingredients to make it a blockbuster success as the film's genre is action-comedy and it is directed by the man who is known to bring out some of the best comedies in Punjabi cinema, Smeep Kang. Along with that, the film also boasted a talented star cast that features a mix of experienced artists like Dev Kharoud, Upasana Singh and Gurpreet Ghuggi, and fresh new faces like Nanak, Miss Universe 2021 Harnaaz Sandhu, Darasing Khurana and Simrat Kaur. Automatically, the expectations were high from the film and now that the film is released, it can be said with surety that the film lives up to them.
The story of Bai Ji Kuttange revolves around Bai Ji played by Punjabi Industry's most loved action hero Dev Kharoud. He is a strict man who wants everyone around him to obey the rules and standards set by him. He is disciplined and extremely professional when it comes to the people who work under/for him. But this is followed by not one but various people breaking his rules one by one. This is led by the entry of Gurpreet Ghuggi as the new driver of Bai ji. And he is the one, who keeps lying and breaking Bai Ji's rules under his nose. But it is also obvious that all the drama isn't going to stay away from the knowledge of Bai Ji for too long. So what will he do when he'll get to know about the betrayal and lies, forms the crux of the story.
As for the performances in the film, Dev Kharoud, Gurpreet Ghuggi and Upasana Singh are seasoned artists who have proven their worth time and again, thus nothing short of perfection is expected from them and they delivered that here as well. This film would have not been so charming without Gurpreet Ghuggi and Dev Kharoud. Both the actors turned out to be outstanding in their roles and the best in the film.
Among the young cast, Bai Ji Kuttange marks the acting debut of Upasana Singh's son Nanak Singh, and we can say he has got a kickstart but he needs to work on his Punjabi dialect and dialogue delivery. The film also marks the debut of Miss Universe 2021 Harnaaz Sandhu and she shows that he has a power to hold the screen and shines in the part that is given to her. Another debutante in the film is Darasing Khurana who plays the role of Bai ji's right hand man. He is the harbinger of confusion and delivers an impressive performance, giving a glimpse of the potential that he possesses.
The rest of the cast include Sabby Suri and Simrat Kaur as well who justify the roles given to them and have a charm whenever they appear on screen. Hadelin De Ponteves plays a Canadian friend of Nanak in the film and stole the show with his brilliant dialogues in Punjabi. He was called 'Gora' in the film throughout, and he actually succeeded in astonishing the audience with his acting and performance.
While the music of the film is pretty average, a special mention needs to be given to its action. Staying true to its genre, the action sequences of this film are really worth appreciating. If you are someone who has always loved and talked about the action in South Indian movies, you might end up liking Bai Ji Kuttange also. The action in this film was specially directed by South Indian K Ganesh Kumar. So all the power punches, swirls in the air and a lot of tod fod is something you can surely expect to watch in the film.
Smeep Kang has lived up to his reputation and has effectively used his talented ensemble. The dialogues of the film deserve appreciation as well as they are indeed hilarious and keep you entertained throughout. Bai Ji Kuttange, overall, is a good film that you can enjoy watching with your friends and family. It is a feast with typical drama and masala which will not disappoint you. This film is a typical Punjabi masala movie. There is romance, action, comedy and various amazing characters that will keep you entertained throughout. The story might be average, but there is a lot more in the film that makes it a must-watch.