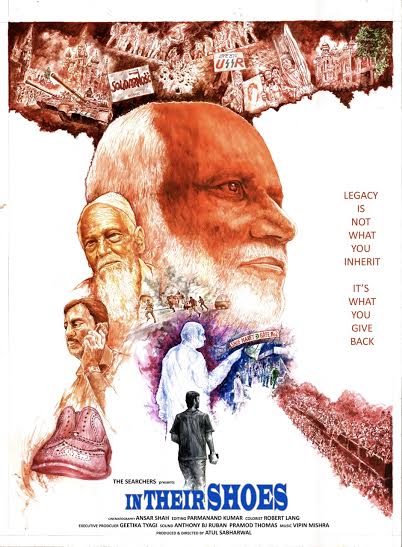 Mumbai: After making a debut with Yash Raj films as a writer-director of the acclaimed Hindi feature Aurangzeb, and TV series, Powder, Atul Sabharwal is now coming out with an independent documentary "In Their Shoes".
Centered on the Shoe industry in Agra and the people who are engaged in it, this feature length documentary is set to release on March 13th through PVR Director's rare in five cities viz. Mumbai, Delhi, Bangalore, Agra and Pune.
Interestingly, this film is one of its kind where the filmmaker is not only associated as a producer-director with the project but also features in it as a son as he quenches his personal quest to go deep and learn about the legacy of his old family business i.e. Shoe trade.
Reminiscing a personal experience, Atul tells, "Back in 2010 I saw my father standing in a Woodland showroom in Agra, looking at a certain item on the shelf and muttering, "so much has changed". At that time, I did not know what had 'changed' though bulk trading in shoe material has always been my family business. Hence, I decided to document what 'used to be' and what had 'changed' and the result is this film."
With a runtime of 92 minutes, this film navigates through the narrow alleys, crowded slums and giant export houses of the historic city of Agra, India, exploring certain answers through the interviews of footwear artisans, traders, manufacturers, exporters and government officials. Through their voices this film pieces together the tale of the industry and the men who built it and sailed it through or got sunk with the global events like India-Pakistan Partition, rise of the USSR, Solidarnosc movement of Poland, the collapse of Berlin Wall, opening of trade economies.
"I always had that urge to tell the story of shoe industry in Agra since I have been born and brought up there. In a way, this film completes a trilogy of sorts for me because all my work so far has been about a specific city and the trade that happens there" says filmmaker Atul Sabharwal.
Referring to his earlier work, Atul adds," Powder was about the trade of contraband/narcotics in Mumbai while Aurangzeb was set against land trade in Gurgaon. Now this documentary also is the story of a key industry i.e. shoe trade within the city of Agra. Besides, it is interesting for me that all my three projects are in different medium from each other – a TV show, a studio feature film and a documentary."
Shot by Ansar Shah and edited by Parmananad Kumar, this film allows the filmmaker to unravel the history of the footwear industry in Agra, and discovers how the global events of his growing up years impacted his relationship with his father.