Mumbai: Beautiful actress Aishwarya Rai Bachchan, was recently spotted with husband Abhishek Bachchan at Vikram Singh' Brother wedding event in an attractive Indian dress.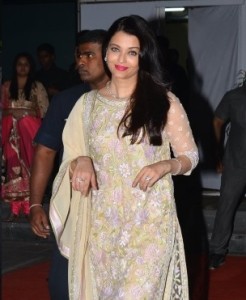 Well, the actress is out of industry from a long time but we hope fans don't need to wait much for seeing Aish back on screen.
As per the latest updates, Karan Johar and Aishwarya Rai Bachchan are in deep discussion regarding few projects and sources informed that they are in talk for an upcoming project "Ae Dil Hai Mushkil".
Along with this Karan Johar had also discussed two more project ideas with Aishwarya Rai Bachchan.
Recently, Aishwarya said, "When I heard the script of movie Ae Dil Hai Mushkil, it made me smile. For me as an actor, it is exciting to be a part of this story and with Karan, it will be the way it should be told. Thus am happy to be on board."
On the other hand, actress Aishwarya Rai Bachchan has so much weight for her upcoming project Jazbaa and it was added that the actress will be seen in a new look and SanjayGupta's movie has been jam-packed with a lot of action stunts.
Fans get ready to see Aishwarya Rai back on silver screen.