Makers of 'Nanu Ki Jaanu' hosted special screening of their film on Thursday in Mumbai. Bollywood celebrities Abhay Deol, Manu Rishi Chadha, Faraz Haider, Neha Mehta and Patralekhaa attended special screening of the film.
Talking about positive response to 'Nanu Ki Jaanu', Abhay said, "It's a positive sign for sure. Word of mouth matters and I feel any positive feedback is definitely considered as plus for a film to survive or to do better."
When asked Abhay what could be the connecting point between his film and the audience, he said, "It is very difficult for me to answer that. As a filmmaker, we always try to please the audience through story of the film and performances in it so I can't figure out what that particular thing which have connected with audience. Filmmaking is a team effort and hopefully they must have liked everybody work who are involved in the film."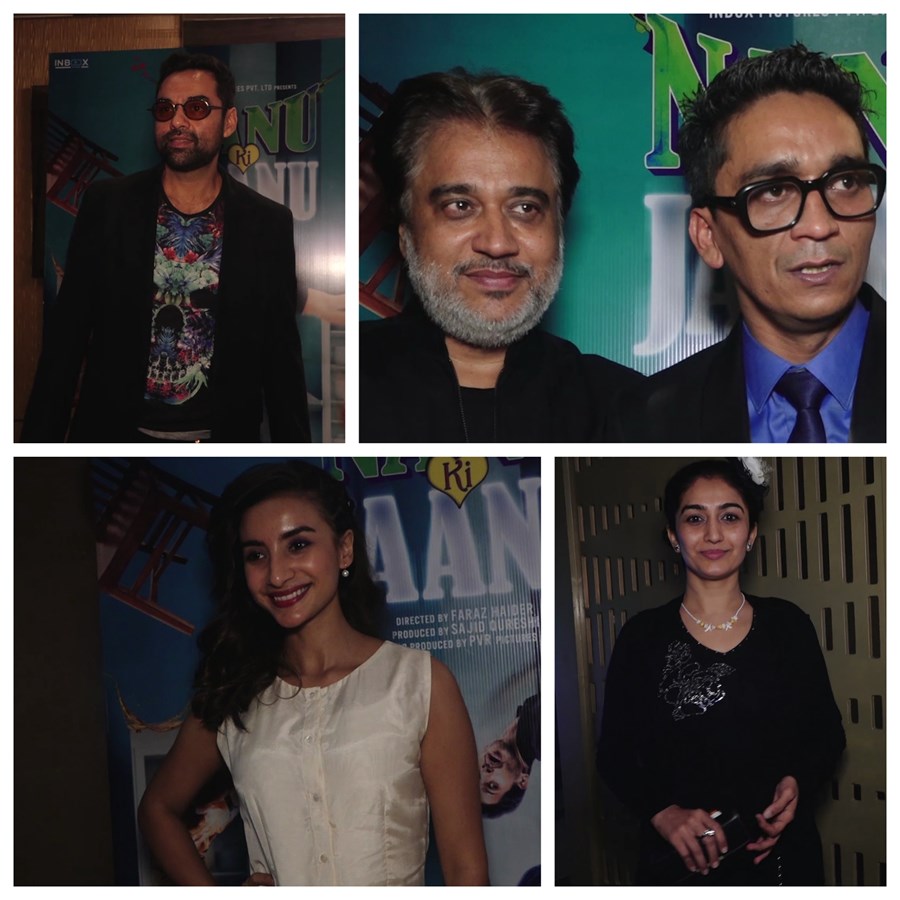 Talking about his experience working with Manu Rish Chadha, he said, "We have worked together in 'Oye Lucky! Lucky Oye' and 'Ek Chalis Ki Last Local' and 'The Odds' so yes, I have good working relationship with Manu. I think he is really talented actor and writer as well."
Talking about his upcoming projects, Abhay said, "Now I have got four other films to release this year which includes 'JL 50', 'The Field', 'The Odds' and Tamil film 'Idhu Vedhalam Sollum Kadha'.
Talking about selling point of the film, director Faraz Haider said, "In this film, Abhay has danced really well in this film which audience hasn't seen him doing earlier. He has performed really well in the film. Manu (Rishi Chadha) bhai has written amazing story of the film which has element of humour and horror and we have tried to give certain message through the film. The film has super-natural concept but we have try to keep it as real as possible which I feel will connect with the audience."
Talking about her experience working in 'Nanu Ki Jaanu', Patralekhha said, "I just thought that it's a different script and it is really funny and I did only drama in my earlier films so it was an opportunity that I would do something different by featuring in horror comedy. It's in commercial and comedy zone so I am excited and I have crossed my fingers.
Talking about her experience working with Abhay Deol, Patralekaa said, "It was nice working with him. He is so dedicated and focused. What I got to learn from his is he loves his work and that's why he is so professional".
'Nanu Ki Jaanu'- a horror comedy, where a ghost falls in love with a crook, starring Abhay Deol and Patralekhaa in lead roles.
The film is produced by Inbox Pictures, directed by Faraz Haider and written by Manu Rishi Chadha.
'Nanu Ki Jaanu' hits the theatres on 20th April 2018.