The world of Bollywood doesn't always focus on sensual item numbers or masala dialogues. Sometimes, a few films get made which strike an emotional chord with their fans and one of them is 'Chak De! India'. Today marks 13 years since the film hit the theatres and it still receives the kind of love it did all those years ago.
The story is about Kabir Khan, a former hockey player who has been assigned to coach the Indian Women's National Hockey team. Shah Rukh Khan essayed this role and no one could have nailed it the way he did. Mostly referred to as the King of Romance, people didn't expect him to be so authentic and raw in his portrayal of Kabir Khan. But it was his role that made the film reach the height it has, even after 13 years.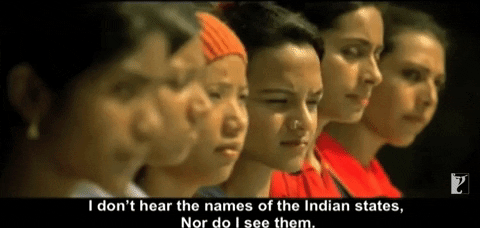 Apart from the brilliant portrayal of Shah Rukh Khan, the film is still very relevant in current times as it still has important lessons regarding not letting anyone treat you differently on the basis of your gender. Apart from Khan's struggle with redemption, that he can only attain by helping the team with the WorldCup, the film also follows storylines of the hockey players, who are also victims of sexism.
One of the most iconic scenes from the film is when hell breaks loose and all the team players begin hitting the guys at a public restaurant as one of them passes an obscene comment on one of the girls. That's when the women who were fighting amongst one another realise that they must join hands and fight their battles together to win big at the international tournament.
The Chak De girls were unquestionably the heart and soul of the film. Despite being from different backgrounds and sharing different personalities they manage to get along with one another and also engage in funny banters which helped in making the tone of the film a bit light. After the film, many of them emerged as great actors and began their solo careers in the world of films.
'Chak De! India' managed to be subtle regarding teaching the most important lessons without being too moralistic. Despite having heavy themes like sexism, racial and religious prejudice, the film was able to properly focus on the women in the hockey team and their utmost strength to achieve and fulfil their dreams.
There is no doubt that Shah Rukh Khan's performance in the film is one of his very best. He is the man who believes there is nothing women can't do that a man can. He starts out and appears to be a pitiless coach and eventually showcases subtle emotions while motivating his team in a way which became iconic. Who can ever forget the beautiful monologue by him regarding '70 minutes'?
Although, lately, Khan has been focussing on producing projects under his banner, 'Red Chillies Entertainment', fans are eagerly waiting for him to essay such a role again soon which managed to connect with his fans strongly and imprint on their hearts.