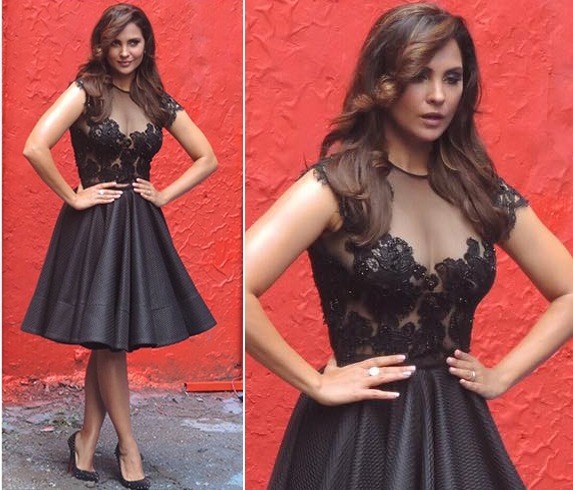 Lara Dutta who is mentoring aspiring candidates for the annual contest of Miss Diva – Miss Universe India 2017 was present on location for episode 1. During media interaction the actress said, this year we want to bag the Miss Universe Crown.
Lara crowned Miss Universe in the year 2000 has taken the responsibility to find the next candidate to represent India and is determined to bring the Title home, she said, "Competition is tough every year. It isn't easy to choose one winner. Because if beauty pageants were easy then there would have been so many beauty queens, and we would have had so many more titles. It's been 17 years since we have had our past winner so this year we have to try and bag the Miss Universe Crown."
While talking about the annual contest of Miss Diva – Miss Universe India 2017 she told the reporters they want to toughen up the competition and have changed the scoring format. "2017 is a new season for Diva, and we have decided to change the format a little. The scoring this year for all the contestants will be slightly different. All divas will be given tasks to complete in the future episodes. There will be two judges and they will be asked to score them out of 10 points, and after 5 episodes the 3 contestants with lowest points will be eliminated. So at the final, only 12 girls will be able to participate."
When asked about the judges and what to expect from the episodes, she said, "The judges are a mixed bag, some of them will be actors from the industry because they have had so much of exposure and experience which is invaluable for our contestants. There will also be experts form modeling field and Beauty pageant experts. The idea is to give the girls a rounded ability and exposure to get some tips on the best in the business."
The 5th edition of Miss Diva will take place on September 30, 2017. The top 12 contestants selected from all over the country will compete in the pageant.
Lara Dutta the mentor, was last seen in' Azhar' directed by Tony D'Souza as a lawyer co-starring, Emraan Hashmi, Nargis Fakhri, and Prachi Desai.
At the finale to be held on 30th September 2017, Roshmitha Harimurthy will crown her successor. Winner will represent India at Miss Universe 2017.