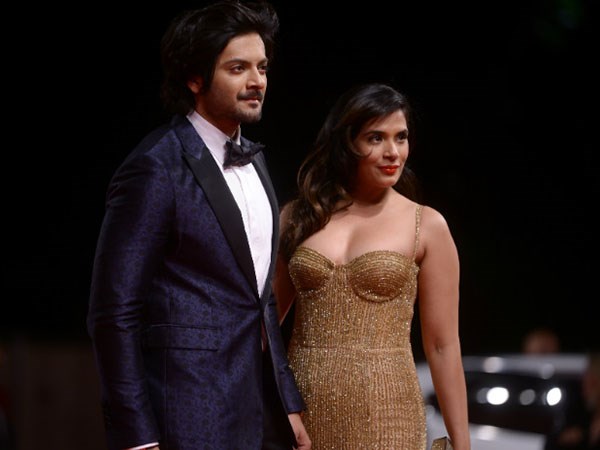 Richa Chadda attended Tod's store launch which deals with designer bags, shoes and accessories on Thursday in Mumbai. While interacting with media, Richa first time confirmed her alleged relationship with her Fukrey co-star Ali Fazal.
Richa earlier linked with Angad Bedi but both of them denied their relationship but recently, Richa Chadha accompanied her Fukrey co-star Ali Fazal to the premiere of Victoria And Abdul at the 74th Venice Film Festival and that incident raised eyebrows among B-Town and in their followers as well, reacting to that public appearance, Richa said, "People are writing shit on my social media accounts like Love Jihad and all that non-sense so I find it really humorous."
"We are not Barack Obama or Michelle Obama to make our relationship public. We are just two humble actors so I don't think anyone care about that but the fact that I took trip to Venice to be with him (Ali Fazal) I think that says something"
Talking about her upcoming movie Fukrey 2, Richa said, "In Fukrey, I am paired with Chu Cha (Varun Sharma) so I cannot leave him. My first love is Chu Cha and for that, I feel sorry for Ali but I have to be with Chu Cha"
"Teaser of the film has already come so of course trailer will also come closer to release. Film is releasing on 8 December so trailer will come closer to that"
Ali Fazal and Richa Chadha co-starred for the first time in 2013 film Fukrey and reportedly they have seeing each other for a year now before making their relationship public. Ali Fazal recently, made his relationship official with Richa in an interview with newspaper.
In Fukrey 2, both will see reprising their roles.
In 'Victoria And Abdul', Judi Dench is playing the Empress while Ali Fazal features as a Muslim prisoner, who swiftly becomes Queen Victoria's close accomplice.
It is releasing on 15 September in United Kingdom and 22 September on United States.