International icon ,Priyanka Chopra,is one of the five honorees for Variety Magazine's annual Power of Women luncheon, which will take place October 13 at the Beverly Wilshire Four Seasons. The event, in partnership with Lifetime Television, awards some of Hollywood's most philanthropic women whose efforts have made a significant impact to their chosen charities and causes.
This years event honors Priyanka Chopra (UNICEF), Kelly Clarkson (QX Super School), Patty Jenkins (Anti-Recidivism Coalition), Michelle Pfeiffer (Environmental Working Group), and Octavia Spencer (City Year). The Power of Women luncheon is tied to Variety's annual Women's Impact Report, which profiles the most impactful women working in the entertainment industry this year. All of the honorees have also been featured on the covers of the October 10 issue of Variety.
Said Michelle Sobrino-Stearns, group publisher and chief revenue officer of Variety. "At the heart of this event is a desire to promote the importance of philanthropy within the entertainment community. This year's honorees are passionate and inspiring women working to help shine a light on causes important to them. We hope it inspires others to do the same."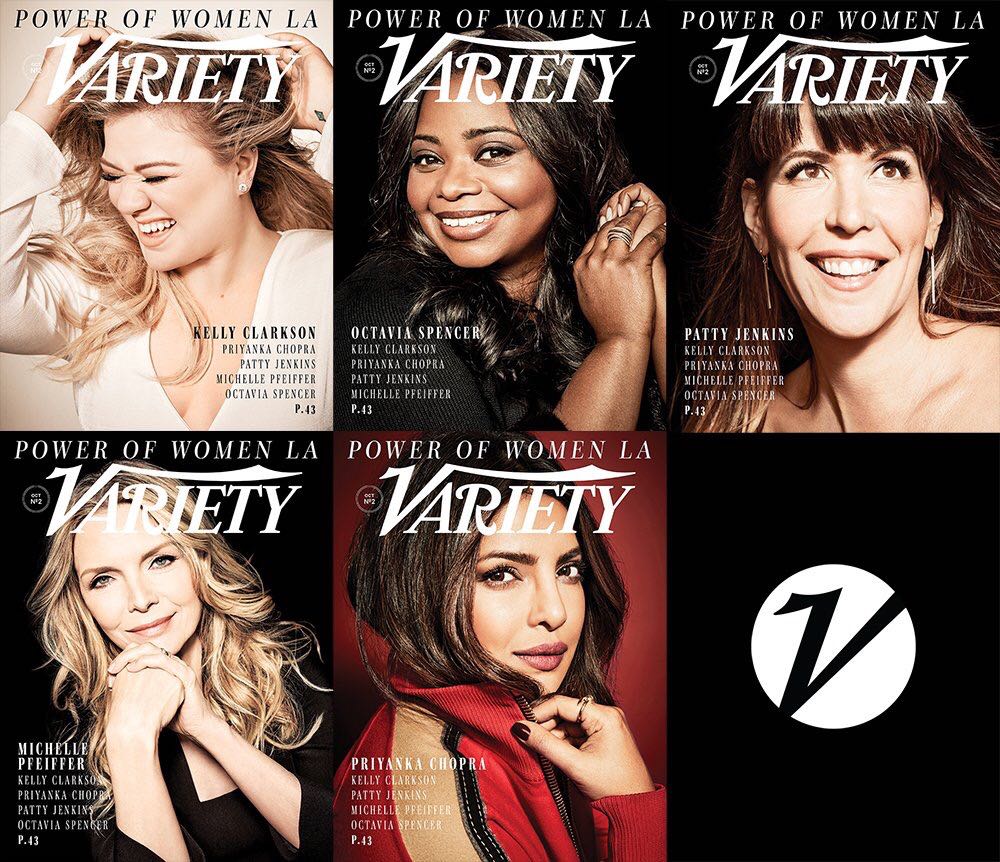 Angelina Jolie, the Goodwill Ambassador for UNHCR, was among the first to take up the cause of fighting for the rights of refugees and displaced people.Global superstar Priyanka Chopra now takes the baton ahead as UNICEF Goodwill Ambassador.
The international superstar has called for increased awareness and support for child victims of sexual violence and made an emotional visit to Zimbabwe this week, where she met child survivors of sexual violence and heard their harrowing stories.
On the second day of her visit, Chopra visited Childline Zimbabwe, the country's 24-hour service for children who have been abused, violated or exploited. Her first stop was a Childline drop-in center in Epworth, where she met survivors of sexual violence who shared their stories. Chopra then visited the Childline call-in center to meet the Helpline counsellors and listen to some of the calls being fielded in real-time.The next day, Priyanka also hosted UNICEF South Africa's first Gala event in Johannesburg to raise funds for UNICEF's work for children in the country.
UNICEF Goodwill Ambassador Priyanka Chopra wrapped up a two-day visit to Jordan this week where she met with Syrian children, young people and their families whose lives have been greatly affected by the conflict.
"We very much appreciate global champions like Priyanka Chopra who can advocate for continued support for the education, protection and well-being of vulnerable girls and boys affected by the Syrian crisis," said the UNICEF Representative, Robert Jenkins. "We are grateful for her commitment in helping us amplify the voices and dreams of millions of Syrian children and youth, who, despite the protracted crisis, remain incredibly resilient and hopeful for a better future," he added.
International icon, Priyanka Chopra's strong social voice recently made an impact at the Annual General Debate of the United Nations General Assembly where she delivered an impassioned speech on girl empowerment.The Annual General Debate of the United Nations General Assembly, saw world leaders and international celebrities assemble at the UN Headquarters to discuss global issues.