Shraddha Kapoor has kickstarted 2018 with film announcement, and a lot is coming her way from her fans. A testimony of the fan frenzy for Shraddha was witnessed by the actress recently, thereby a fan presented her with a handmade scrapbook.
Shraddha had a firsthand experience of the love her fans posses for her when she was greeted by a fangirl while the actress visited her gym.
The actress was left pleasantly surprised as the fan gifted her with a handmade scrapbook which had intriguing detailings and pictures of the actress.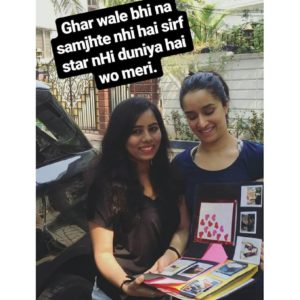 Shraddha not only acknowledged the fan but also made sure that she is going through all the pages of the slambook.
The fan was extremely happy after meeting Shraddha as she shares, "Best thing happened to me in 2018, Thank you so much, 2018".
Shraddha was delighted by the love and took to social media to express her gratitude.
Shraddha Kapoor is currently gearing up for her upcoming flick Saaho alongside Prabhas.