Disappointed by a fan who tried to draw attention with a stunt video, Tiger Shroff has requested everyone not to try action sequences on their own.
Recently a fan tagged Tiger Shroff in a video where he was trying to impress the actor by performing dangerous stunt without any precautionary measures.
When Tiger came across the video he immediately took to twitter showing his disappointment towards such actions.
The actor shared, "Sorry, but that's so stupid of you to try something like that. Never risk your life. When action heroes perform something alike on screens, they do it under the supervision of professionals. Never ever try doing all this on your own. Disappointed to see this."
As soon as Tiger tweeted the fan immediately apologised sharing, "My [email protected] just tried to Overcome from my fear of heights as i always did But this time i got injured and also realized that this is wrong way to do that stunts.I know you are explaining me because you love and care for us all.I feel so guilty for this mistake".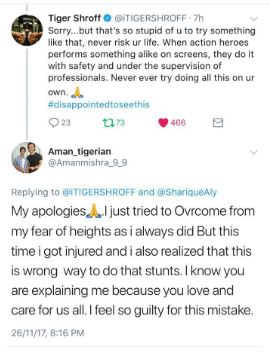 He further shared, "But I promise that i will never repeat this mistake again
I never dreamed that someday I would disappointed u @iTIGERSHROFF ..really i feel so bad  from the depth of my heart . Next time i will keep saftey first on my mind
IF POSSIBLE PLEASE FORGIVE ME ..".
On the work front, Tiger Shroff is currently busy shooting for Sajid Nadiadwala's Baaghi 2 alongside Dishant Patani.