Superstar Salman Khan seems to be on rage acquiring the top spot of Score Trends India for the week of March15 to March 22.
The much-awaited movie "Race 3" starring Salman Khan has finally concluded its shoot and the teaser posters are out which has drastically pumped Salman's ranking. The buzz of Dus Ka Dum on television has also added to Khan's popularity. As the promotions and celebrations of this Race sequel grow louder each day, Khan has whizzed up the popularity ladder with 90.97 points to earn back his title as NO 1!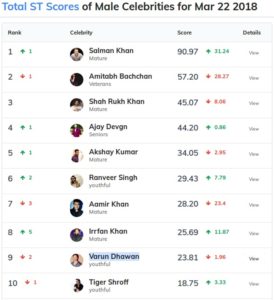 Meanwhile, International icon actress Priyanka Chopra too has won back her crown as the No.1 actress again with 68.97 points at the Score Trends India Charts.
With Bollywood's most sought-after actresses back in her home country, the whole of Bollywood awaits her next big film announcement.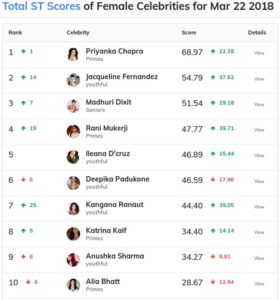 These statistics are authenticated and researched by the US-based media tech startup Score Trends India.
"We collect data from over 600 news sources across 14 languages in India to analyse the media from Thursday to Thursday," explained Ashwani Kaul, co-founder of Score Trends. "These include Facebook, Twitter, print publications, viral news on social media, broadcast and digital platforms. Various sophisticated algorithms then help us to process this massive amount of data and arrive at the scores and rankings of Bollywood stars."
With hot-shots like Jacqueline who climbed the second position on the Score Trends charts with her Ek Do Teen remix song in Baaghi 2 doing more damage than good, Jacqueline has got into the centre of this controversy and is making quite a jump on her popularity rank.
Meanwhile, Rani Mukerji is shooting up the popularity ladder rather quickly, with 19 ranks up on a single jump to the fourth position with her amazing performance in the movie 'Hichki​'. Mukerji might give a tough fight to Priyanka in the coming week.