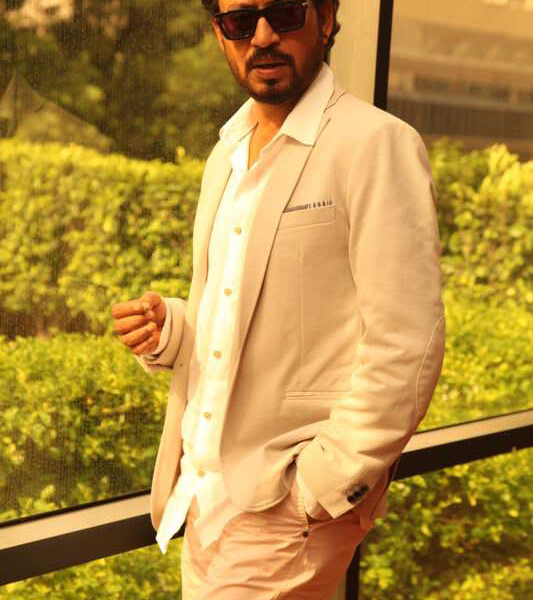 Irrfan Khan who is high on love after his back to back hits is all set to hit the grounds for the promotions of his upcoming release Qarib Qarib Singlle. The star has special a surprise planned for his fans in Kolkata.
While Irrfan Khan will be visiting Kolkata for the release of his Bengali film, the actor will take some time off to promote Qarib Qarib Singlle.
Irrfan has set aside two consecutive days to spend on the promotions and is all ready to woo the ladies there, while he will be in Kolkata for his Friday release,
In Qarib Qarib Singlle we will see the National Award winning Irrfan Khan along with the Malayalam actress Parvathy, who will mark her Bollywood Debut with this film.
The actor along with Parvathy will be visiting various cities as a part of the promotional plan. But Irrfan definitely has a special plan for all his female fans in Kolkata.
Irrfan will be seen having the all girl's favorite 'puchkas' opposite the famous Victoria Memorial with his female fans. The actor will be portraying a quirky lover boy avatar in the film, and he is all excited to experience this personality with his fans.
That's not all, Irrfan will also visit the cultural hub of the city, Nandan Cinema for interviews and media interactions.
As a cherry on the top, Irrfan Khan along with Parvathy will enjoy a boat ride in the iconic 'Hoogly' river as a treat for his fans. The Sun Downer event will be the most romantic and a majestic gesture by the actor.
Qarib Qarib Singlle is a contemporary love story of a middle – aged couple who meet through online dating. The movie unfolds the desi adventure of Yogi and Jaya as they embark their journey to discover love and life.
The film is garnering a lot of attention for its unusual pairing and quirky content. The trailer has received appreciation from the audience for its unusual story line promising a joy-ride. The songs too have been loved by the audience for its unconventional and soulful music.
This quirky love story travels through the cities of Bikaner, Rishikesh, and Gangtok taking us on an unusual ride of a middle-age romance.
Presented by Zee Studios, 'Qarib Qarib Singlle' is A Jar Pictures production and is helmed by filmmaker Tanuja Chandra, the film is shot across real locations of Bikaner, Rishikesh and Gangtok and is all set to release on 10th November 2017.