The multi-talented star Farhan Akhtar has showcased his interest in restoring the Nirav Modi owned Rhythm House for an initiative led by Anand Mahindra to provide a platform for musicians.
Farhan Akhtar who is not just an actor or producer, but also a passionate singer and performer expressed his interest to join the cause to restore the seized Rhythm House in Colaba for the interest of musicians via his social media.
As Enforcement Directorate recently seized Nirav Modi owned Rhythm House amongst the 21 properties owned by him, Anand Mahindra led an initiative for Mumbai based influencers to pitch in for restoring the place and develop it into a performance venue for rising musicians. Farhan Akhtar showcased keen interest in providing a platform for musicians.
Anand Mahindra had taken to Twitter to propose saying, "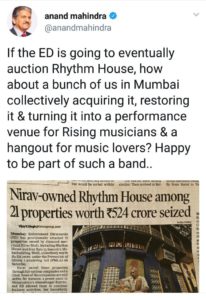 To which Farhan Akhtar replied saying,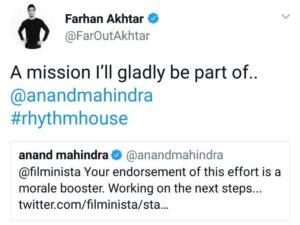 Farhan Akhtar who is a passionate singer has been vocal about his music interests.
The actor also performs at various events for his concerts 'Farhan Akhtar Live' and has recently been performing across India for the same.
The multi-talented star is currently on a performing spree since the new year commenced. Farhan Akhtar who has a heart for music has time and again entertained the live audience across the globe.
The star who has carved a place for himself not just an actor or a filmmaker, but also a rock star, has received immense love from the audience for his past concerts.