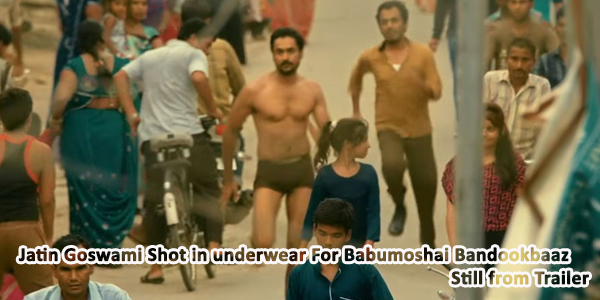 Theatre and film actor Jatin Goswami is happy with his big break with Babumoshai Bandookbaaz in which he plays parallel lead alongside Nawazuddin Siddiqui. The actor in an interview revealed that he was very nervous to perform one scene in the film but late became comfortable.
In an interview, Jatin shared one situation during the shooting of the film, "It was really a very good experience shooting for the film. But there was a sequence which was shot in the market place, and I was supposed to wear only underwear and run in the market. Hence it's a pre-requisite for actors to be uninhibited. But this scene took it to a different level.
This was a gorilla shot where there were multiple cameras set up on building's rooftops. And the crowd in the busy market streets below didn't know anything about the shoot. And on action I had to run frantically through them wearing just tiny underwear. In the beginning, I was really nervous about the whole chase."
The actor who is readily adaptable to the situations says that after some time he got comfortable with the situation.
"But as some time passed, I became much comfortable. We shot for the whole day for that scene. And by the end of it I was comfortably prancing around in my tiny underwear. People in the market were also looking at me in a strange manner".
I don't think this is a situation a lot of people would have or want to experience of running around on crowded streets in just an underwear" said Jatin.
Jatin concluded, "I can easily strip for the camera now."