Aamir Khan transformed from regular guy to a sincere and principled wrestler Mahavir Phogat in Dangal, the role required some pretty hard and impressive body transformation, but that was not the toughest role played by the actor. His upcoming music maestro avatar "Shakti Kumaarr" in Secret Superstar is his toughest role, as the actor himself!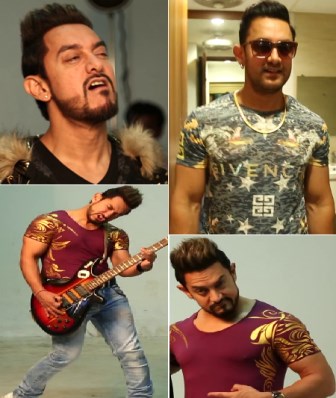 Aamir Khan is playing the role of a music director and singer in upcoming musical drama, Secret Superstar, which sees him in one of the outrageous and whacky avatar and according to the actor; it is one of his toughest roles.
The actor-producer, Aamir Khan unveiled a behind the scenes video on social media, which talks about his role, preparation, and reactions from co-star from Secret Superstar.
He captioned the video, "One of my toughest roles!"
In the video, Aamir Khan is seen saying, "He is quite a flirt, he flirts with girls. I mean all the bad qualities you could think of in a man, Shakti Kumaarr has it all. It is really important for me to understand the mind, his nature and thinking of my character, this is really important me. Once I get it then rest of the things comes from there…I enjoyed doing the role because this character is literally mental type"
The story of Aamir Khan's musical epic revolves around a girl who is an aspiring singer and wants to gain recognition in her profession.
Produced by the legendary actor himself and wife Kiran Rao, the film features actors like Meher Vij, Raj Arjun, Tirith Sharma, Kabir Sheikh and Zaira Wasim, along with various others.
'Secret Superstar' will hit the cinema on October 19, 2017.